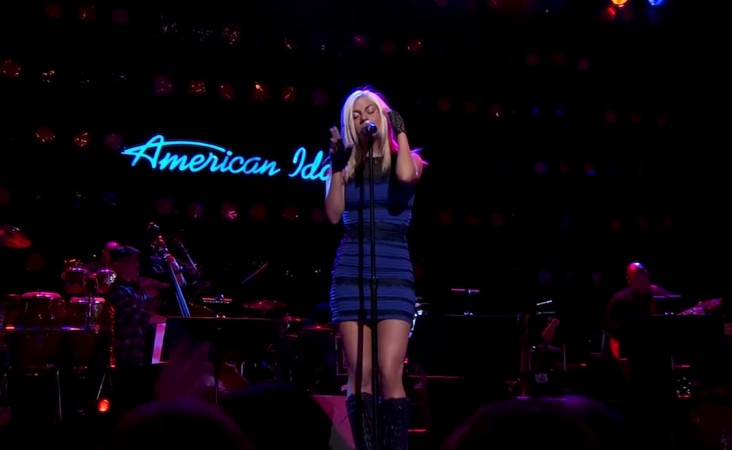 American Idol XIV 2015 is not without shocking element like in the past with some promising female contestant being eliminated in the semi-finals part 2.
Four contestants - Katherine Winston, Shi Scott, Lovey James, and Shannon Berthiaume - were eliminated from the show on Thursday.
The remaining top eight female contestants took the stage again on Thursday with the hope of impressing the judges - Jennifer Lopez, Harry Connick Jr. and Keith Urban – and the American public.
American Idol XIV 2015 Semi-Finals Recap:
Tyanna Jones: She sang Michael Jackson's "Rockin' Robin" and it was a good performance.
Loren Lott: She took on the song, "I Wanna Be Where You Are" by Michael Jackson and it was an average rendition.
Maddie Walker: She performed The Jackson 5's "I'll Be There" and it was a good perform.
Joey Cook: She sang The Miracles' "Shop Around" and it was a good performance.
Sarina Joi-Crowe: She rendered The Miracles' "You've Really Got A Hold On Me" and it was a very good rendition.
Adanna Duru: She sang Lionel Richie's "Hello" and it's a very good performance.
Jax: She took on Marvin Gaye & Tammi Terrell's "Ain't No Mountain High Enough" and it was a good rendition.
Alexis Gomez: She sang The Four Tops' "I Can't Help Myself (Sugar Pie Honey Bunch)" and it was a poor performance.
Going by Thursday's performances, it looks like Alexis and Loren could be eliminated though it is the American audience who will decide the fate of the contestants in the competition.
Top eight male contestants, who performed live on Wednesday, were Daniel Seavey, Mark Andrew, Rayvon Owen, Adam Ezegelian, Clark Beckham, Nick Fradiani, Qaasim Middleton, and Quentin Alexander.