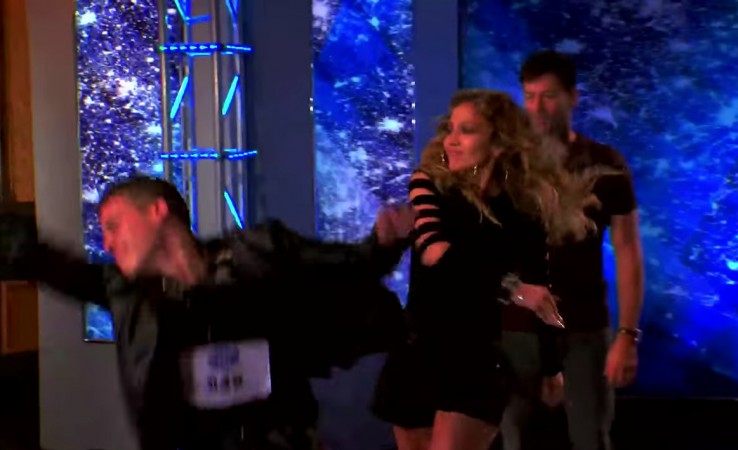 American Idol XIV 2015 San Francisco audition was an exciting one with some contestants forcing the judges to hit the stage. Jennifer Lopez, Keith Urban and Harry Connick Jr. gave away nine golden tickets on Wednesday's episode.
A 22-year-old Samuel Prince from Puerto Rico showed his acting skills by letting Jennifer do the slapping scene. Keith Urban and Harry Connick Jr also ended up imitating them. They seemed to have fun but thought Samuel was better at acting than singing.
A total of nine contestants were given tickets to Hollywood on Wednesday night. San Francisco produced candidates like Katherine Skinner, who sang "Shake It Out" by Florence +The Machine, KellyAnne Rodgers ("A Song for You"), Erika David ("No One"), Andrew Bloom ("Too Close"), Chandler Leighton ("New York State of Mind"), Maddie Hudson ("Resentment"), Ryan Pinkston ("As"), Reno Anoa'i ("I Don't Want to Talk About It"), and Rayvon Owen ("Wide Awake").
Last week saw dozens of hopefuls being given golden tickets. Candidates, who received green signal at Minneapolis and New Orleans auditions, are Shannon Berthiaume, Morgan Ovens, Gabrielle Noe'l, Courtney Guns, Vanessa Andrea, Zach Johnson, Aaron Bissell, Cindy Jo Scholer, Matt, Jacob Tolliver, Hanna Mozrak, Mark Andrew, Jelly Joseph, Tiffany Stringer, Greyson Turner, Quentin Alexander, Mikey Duran, Ricky Hedricks, Dakota Suarez, Adam Lasher, and Erica Washington.
San Francisco Auditions Spoilers:
American Idol XIV audition is coming to an end with the final episode to be aired on Thursday, 29 January at 8/7c PM on FOX.
It is reported that former "The Voice of the Philippines" contestant Dave Lamar is trying his luck in American Idol. He sparked off speculations by tweeting a photo with "American Idol" banner in the backdrop and claiming that it's not "PhotoShopped."
However, it remains to be seen if the 23-year-old Filipino singer, who was eliminated during the battle rounds on "The Voice of the Philippines", manages to impress Jennifer, Keith and Harry.