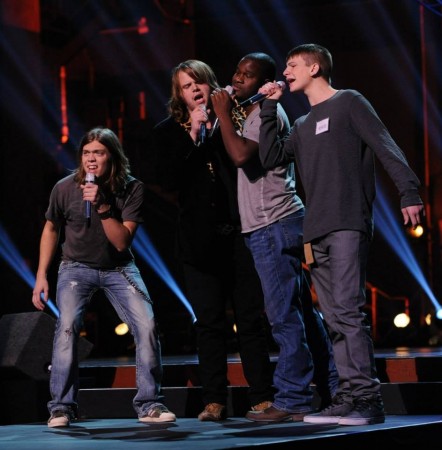 American Idol season 13 has turned interesting this week with the selected contestants being made to perform live. After witnessing 10 girls' performance on Tuesday, it's men's turn to hit the stage.
Wednesday's episode will have 10 men perform live. It will be telecast at 8:00pm EST on Fox (6:30am IST, Thursday).
Surprisingly, judges - Jennifer Lopez, Keith Urban and Harry Connick, Jr. - will choose only 10 men based on their performances at Randy Jackson's boot camp and the rehearsals to perform on Wednesday, which means five contestants will be sent home without performing.
On Tuesday, host Ryan Seacrest called out Majesty Rose, Kristen O'Connor, Briana Oakley, Jena Irene Asciutto, Bria Anai, Marrialle Sellars, Jessica Meuse, Emily Piriz, MK Nobilette, and Malaya Watson to perform live, leaving out Jillian Jensen, Andrina Brogden, Brandy Neelly, Kenzie Hall and Austin Wolfe.
Continuing Rush Week episode, Ryan Seacrest will call out 10 contestants (men) to perform live on Wednesday.
Here is list of top 15 men:
1. Spencer Lloyd
2. George Lovett
3. Sam Woolf
4. Maurice Townsend
5. Dexter Roberts
6. Emmanuel Zidor
7. Jordan Brisbane
8. Malcolm Allen
9. Alex Preston
10. Casey Thrasher
11. CJ Harris
12. Caleb Johnson
13. Ethan Harris
14. Briston Maroney
15. Ben Briley
Ben Briley made it to top 15 (men) on Tuesday, beating Neco Starr based on America's votes but it has to be seen if he will be among the 10 contestants to perform live on Wednesday.