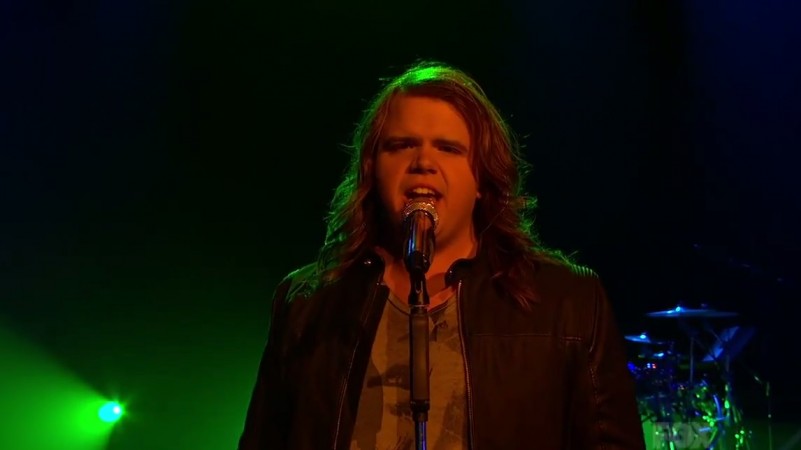 The penultimate week of "American Idol" 2014 finale is going to be heartbreaking with one of the three finalists - Caleb Johnson, Alex Preston and Jena Irene - set to be sent home during the elimination episode on Thursday.
The semifinal results of "American Idol" will be telecast at 9:00 pm EST Thursday on Fox (7:30am IST, Friday). One of the three remaining contestants will be eliminated tonight, based on America's votes.
Johnson, Preston and Irene performed three songs each picked by Randy Jackson, judges and the contestants' hometown during the semifinals live show on Wednesday. Johnson braved bronchitis, sinusitis and hemorrhage by belting some hard rock.
Wednesday's Live Performance Recap:
Randy Jackson's pick:
Johnson was given "Never Tear Us Apart" by INXS. His illness was noticeable in his performance but he put up a brave show and did reasonably well.
Preston sang "Pompeii" by Bastille. It was not an impressive performance except for the drums in the middle of the show.
Irene performed "Titanium" by David Guetta, featuring Sia. It was not a great show compared to her earlier rocking performances. There were a few good moments though, especially the high notes.
Judges' pick:
Johnson was given "Demons" by Imagine Dragons. It was not a bad song choice but his illness was once again noticed in his performance.
Preston sang "Stay" by Rihanna. It was one of his best performances this season as he made the song his own.
Irene rendered "Heart Attack" by Demi Lovato. She seemed to be not very comfortable with the song. Judges heaped praises as usual but it was just an average performance.
Hometown's pick:
Johnson was given "Dazed and Confused" by Led Zeppelin, which he sang earlier in the season. Well, the man, who was struggling in his earlier performances due to the illness, opened up and rose to the occasion by rocking it like no one else. It was a great performance.
Preston sang "Story Of My Life" by One Direction once again. However, it was sort of a dumper after his rendition of "Stay". It was just an average performance.
Irene was given "Creep" by Radiohead once again. She had nailed it in one of the episodes this season, and she did even better this time. She opened up her voice a little more this time and hit the high notes more precisely than the last time.
Looking at the performances on Wednesday, Johnson and Irene have a better chance to move on to next week's final but Preston cannot be ruled out too. It's the American audience who will decide the fate of the remaining contestants.
(Image credit: screenshot from American Idol video)