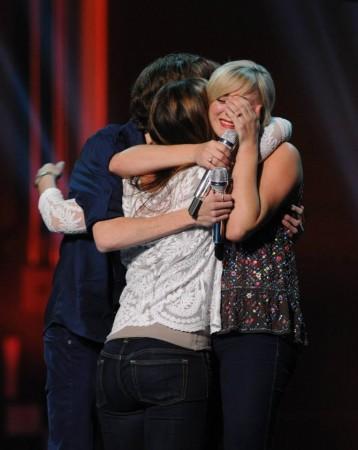 American Idol 2014 is entering an exciting phase, with the 30 selected contestants going live during the Rush Week episodes starting Tuesday. The number of contestants will be narrowed down to just 13, during the three-day episode.
Tuesday's episode will have top female contestants performing live on Fox, which will be telecast at 8:00pm EST on Tuesday (6:30am IST, Wednesday).
Judges - Jennifer Lopez, Keith Urban and Harry Connick, Jr. - will choose only the contestants whom they think are worthy of America's votes, to perform in the "Rush Week" episodes, which means some of the contestants are set to be sent home, even before performing live.
"We're narrowing that field right down to America's top 13 contestants, so they can start voting for them straight away," executive producer Trish Kinane, was quoted by USA Today.
A total of 31 contestants, consisting 15 girls and 16 boys, were selected in last week's episodes. However, two of the contestants - Ben Briley and Neco Starr - are in the danger zone, with only one of them going into the next round, based on America's votes.
Here is complete list of top 30:
WOMEN
1. Emily Piriz
2. Jillian Jensen
3. Malaya Watson
4. Bria Anai
5. Jessica Meuse
6. MK Nobilette
7. Kristen O'Connor
8. Andrina Brogden
9. Marrialle Sellers
10. Jena Ascuitto
11. Majesty Rose
12. Briana Oakley
13. Brandy Neelly
14. Kenzie Hall
15. Austin Wolfe
MEN
1. Spencer Lloyd
2. George Lovett
3. Sam Woolf
4. Maurice Townsend
5. Dexter Roberts
6. Emmanuel Zidor
7. Jordan Brisbane
8. Malcolm Allen
9. Alex Preston
10. Casey Thrasher
11. CJ Harris
12. Caleb Johnson
13. Ethan Harris
14. Briston Maroney
15. Ben Briley or Neco Starr (the winner will be declared on Tuesday based on America's votes).