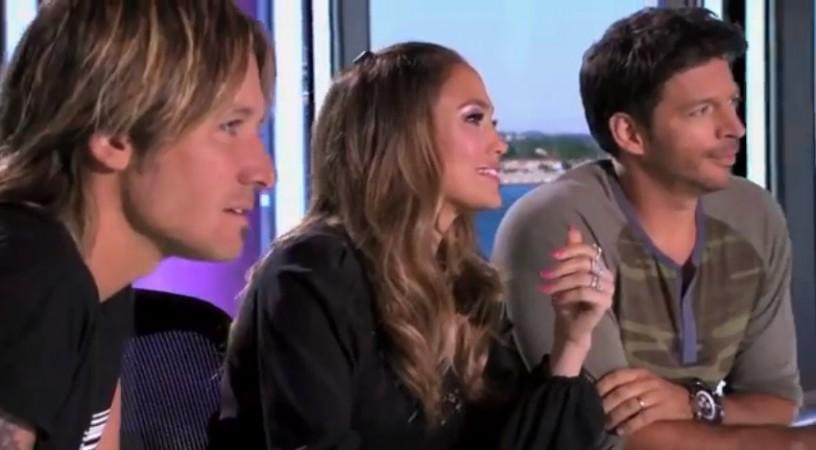 The American Idol Season XIII auditions will move to Detroit and Atlanta next week, after an exciting start this week at Boston which saw many aspirants trying to impress the judges.
The American reality show kicked off in Boston on Wednesday before moving to Austin and San Francisco on Thursday. Many talented youngsters like Marrialle Sellars, Sam Woolf, Ethan Thompson, Kaitlyn Jackson, Rachel Rolleri, Savion Wright, Munfarid Zaidi got tickets to Hollywood.
The auditions to American Idol will be premiered on Wednesday and Thursday at 8/7c on FOX. It will come to Salt Lake City and Omaha towards the end of the month.
Keith Urban has returned to the show as a judge while Jennifer Lopez and Harry Connick Jr have taken the place of Mariah Carey, Nicki Minaj and Randy Jackson. The new judging panel shared great chemistry during the auditions and seemed to enjoy each other's company.
The ratings of American Idol were on the decline last year but the entry of Harry Connick Jr and Jennifer Lopez as judges has added freshness to the show.
Harry's presence is expected to draw more audience. He may be unknown to most contestants but his "likability" factor, toughness and good looks could make him one of the favorite judges. He is unafraid of expressing his opinion and had disagreed with Lopez and Urban on several occasions during the auditions.
The other new judge - Jennifer Lopez - is not just a glamor quotient. She seems to know exactly what she is doing and what she wants.
VIDEOS: American Idol Season XIII