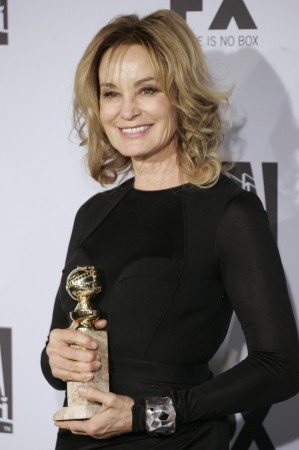 "American Horror Story" alum Jessica Lange's recent statement about her not being done with the series has given fans hope that she would play a role in the upcoming "American Horror Story: Hotel."
Fans were devastated when Lange earlier revealed that she would not be involved in the fifth season of Ryan Murphy's anthology series. However, in a recent interview with The Wrap, the actress said she was open to coming back if the role was right. But fans hoping to see the actress in a principle role will be disappointed as the 66-year-old said she wanted to play a small part.
"If Ryan came to me and said, 'Would you want to do a small character for a couple episodes?' I would absolutely say yes if I liked it. This was a great collaboration, so I would love to keep working with him," she said.
Murphy too addressed the possibility of Lange's return in an interview with Deadline, saying he was sure the actress would be on board if he came up with a compelling character and an amazing role for her.
"Well, all I can say about that never say never with Jessica... I think if I went to Jessica and I had an amazing role, I think she would do it. I think she wanted some time off, but Jessica is somebody that is always about the role, in every season on this show," Murphy said.
"I think if I came up with something extraordinary for her, if I could come up with a great character, she's all about that, and she's told me that, if you have something great after I sort of get my rest then let's keep talking, so I'll do that."
The fifth season, "American Horror Story: Hotel," is set to return to FX in October. The series will star Matt Bomer, Sarah Paulson, Angela Bassett, Lady Gaga, and Kathy Bates among others.