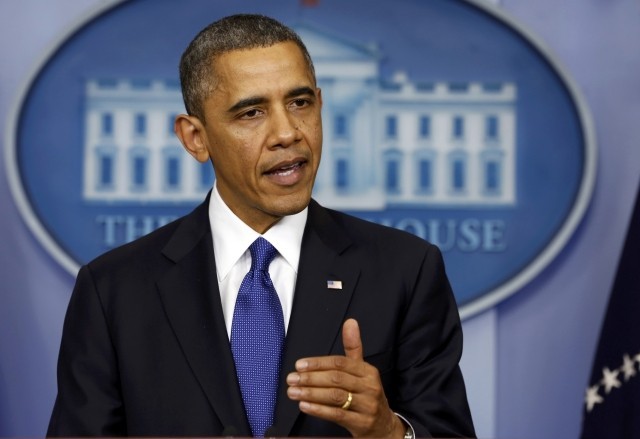 The US will withdraw its military troops from Afghanistan by the end of 2016, only retaining a group for its embassy security in the country, said President Barack Obama.
America's combat mission will be over by the end of this year. Starting next year, Afghans will be fully responsible for securing their country, and the American personnel will only be in an advisory role, Obama added.
The US will no longer patrol Afghan cities, towns, mountains or valleys. That is a task for the Afghan people, Obama said on Tuesday. The American President gave a surprise visit to the US military base in Afghanistan last weekend, and thanked the troops and other civilians deployed there.
Obama explained to the US people on how his government will bring America's longest war against al Qaeda in Afghanistan to a responsible end, in a phase-wide manner.
The President also stated that the US did not seek this fight.
"We went into Afghanistan out of necessity, after our nation was attacked by al Qaeda on September 11th, 2001. We went to war against al Qaeda and its extremist allies with the strong support of the American people and their representatives in Congress; with the international community and our NATO allies; and with the Afghan people, who welcomed the opportunity of a life free from the dark tyranny of extremism," the 52-year-old said.
Obama said that a year ago, Afghan forces assumed the lead for combat operations. Since then, their forces have continued to grow in size and strength, while making huge sacrifices for their country. This transition has allowed the US to steadily draw down its forces - from a peak of 100,000 troops, to roughly 32,000 today.
Obama made it clear that after 2014, the US will be open to cooperating with Afghans on two narrow missions: Training Afghan forces and supporting counterterrorism operations against the remnants of al Qaeda.
"The future of Afghanistan must be decided by Afghans. But what the United States can do -- what we will do - is secure our interests and help give the Afghans a chance, an opportunity to seek a long, overdue and hard-earned peace, the Democratic Party leader said.
America will always keep its commitments to friends and partners who step up, and will never waver in the determination to deny al Qaeda the safe haven that they had before 9/11, Obama warned the terror group.
US lauds Modi-Sharif meeting
In another development, the US officials hailed the meeting between India's new Prime Minister Narendra Modi and his Pakistan counterpart Nawaz Sharif.
Sharif was in India on Modi's invitation to attend the latter's anointment as PM on Monday. Later on Tuesday, the two leaders held talks in Delhi.
The US officials stated that they have found a positive and constructive tone of Modi and Sharif. The US always encouraged India and Pakistan to pursue dialogue that can cut tension between the nations, they stressed.