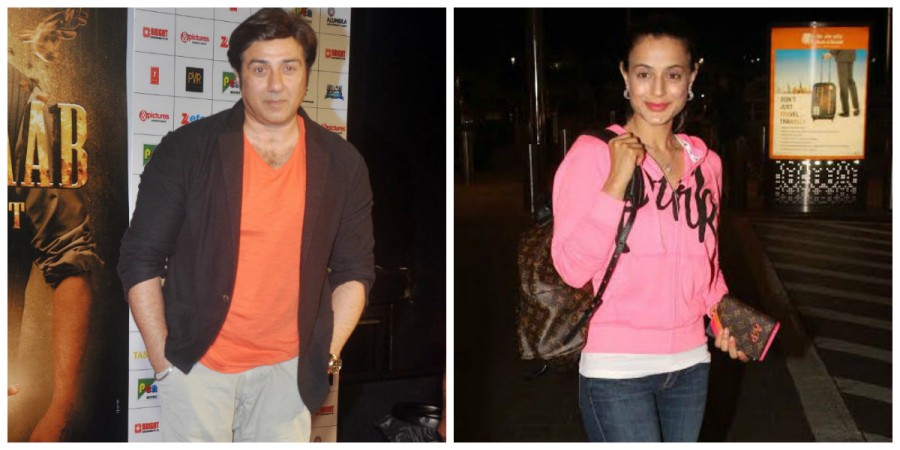 Ameesha Patel, Sunny Deol's leading lady in "Bhaiyyaji Superhit," recently lost her cool at a media interaction. The actress was in a foul mood and was seen being rude while replying to reporters' questions.
Ameesha first yelled at the scribes, saying "silence," and then appeared to be very impatient with her responses. When one of the reporters addressed her by her name, she immediately interrupted, saying "Call me Ameeshaji."
When another mediaperson asked her about her absence from the big screen after "Shortcut Romeo" in 2013, the "Bhaiyyaji Superhit" actress said, "Agar aap akalmand hote toh khud ba khud samajh jate ki production house khola toh usme time gaya (If you were intelligent enough, you would have understood on your own that the launch of a production house took time)."
Although the exact reason of her bad mood is not known, SpotboyE reported that the actress was irked for being informed about the press meet at the last hour. Reports suggest that the other female lead of "Bhaiyyaji Superhit," Preity Zinta, was also not willing to talk to the media for the same reason.
Directed by Neeraaj Pathak, the Sunny-starrer was earlier supposed to be a sequel of "Gadar" but Ameesha had clarified that it is not a sequel and has a comic plot.
"I am happy to come back with Sunny Deol on big screen. But I feel our audiences are even more excited about it. I want to clear the fact that this movie is not 'Gadar' part 2. That was a serious love story and this is a comedy film. The Tara Singh and Sakhina Jodi of Sunny ji and Ameesha will be coming in a new avatar. So, it will be wrong to expect that this movie will recreate 'Gadar'," Ameesha had told media earlier.
Though the shooting of the movie was started in 2013, it was subsequently halted due to financial crisis. However, the film is now ready and is expected to hit the screens in December this year. Check out the video in which Ameesha is seen losing her cool at the media.