Amber Rose, who is known for her progressive stance on a wide variety of issues ranging from slutwalk and sexuality, never shied away from the public with her body. Even in her recent post on Instagram, where she posed almost fully nude with a playful caption that says, 'Peach Fuzz', the 35 year old model and actress sent her 18.8.million followers in a state of frenzy.
The mother of one was on full display, covering it with a bearly-it-does'nt-matter peach scarf holding her bottoms, upright.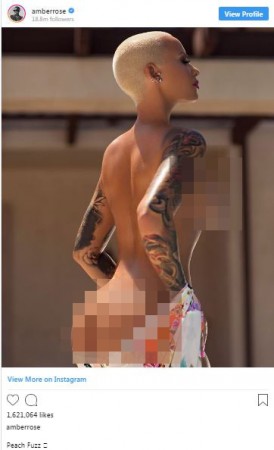 This is not the first time Amber Rose has shown it all, on social media. She has tried to bend the rules of nudity on Instagram before also, by going braless and posing with a fur coat to showcase her newly reduced 36DDD chest.
The snap was an instant hit among her followers and her new boyfriend, Def Jam Records producer, Alexander Edwards, as well garnering more 5 million likes.
Amber has always been confident about her body and she has also been very open about it. Back in December 2017, when she underwent through surgery, she was very vocal about it.
'My boobs slowed me down. It was almost as if I had like a heavy backpack on my chest,' she told in an interview to People.
She did admit that she was scared to have the surgery initially but after a point of time, she could not take it anymore. Especially after the birth of her son, Sebastian in 2013, her breast became so heavy that she truggled to do exercise without the use of three sports bras.
Amber has come a long way since her days of being an exotic dancer in Philadephia when she was a teenager and had to earn for her family after her parents divorced.
The star has featured in many music videos, reality shows and is also a successful model.
She is also the ambassador for Slutwalk movement, that organises marches and rallies on a regular basis for women to end rape culture, including victim blaming and slut shaming.