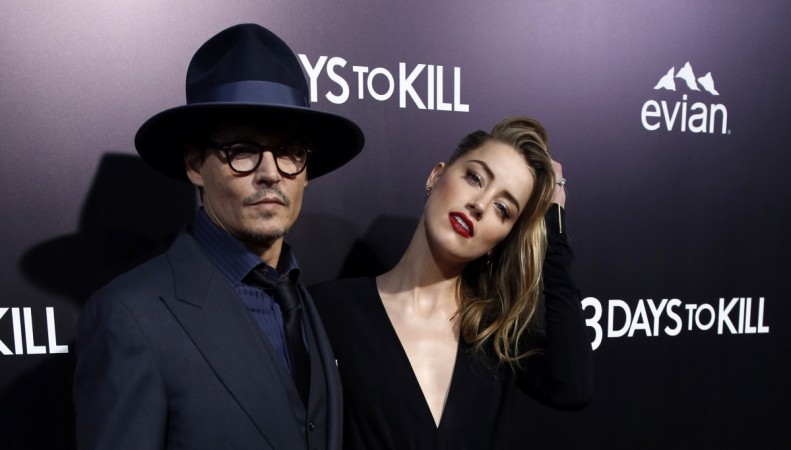 Amber Heard has filed for divorce from husband Johnny Depp. The "Rum Diaries" star cited "irreconcilable differences" and has asked for spousal support in the papers submitted to the Los Angeles Superior Court on Sunday, May 22.
Heard, 30, decided to part ways just three days after Deep's mother Betty Sue Palmer passed on. The 52-year-old "Pirates of the Caribbean" star, who appeared on Jimmy Kimmel Live on the day his wife filed for divorce showed no signs of trouble in his relationship.
Was his calm demeanour an acceptance of things gone awfully wrong? So far, Depp hasn't reacted and there's no way to tell if news of the divorce was a shock. However, several reports suggest that the two had a rocky relationship from the beginning.
A Daily Mail article reported that Depp and Heard started fighting months after they tied the knot in February 2015. Sources told the outlet that the arguments surfaced when Depp was filming for his upcoming film, "Pirates of the Caribbean: Dead Men Tell No Tales," in April of the same year.
A month later, the couple was in trouble with Australian authorities for illegally smuggling their Yorkshire Terriers, Pistol and Boo, into the country. The charges were dropped in April 2016 after Heard pleaded guilty and even apologised in a video with Depp.
The couple, however, has been spotted looking quite tense in the past few months, especially after the "Black Mass" star mocked his apology to the Australian government. While promoting his film, "Alice Through the Looking Glass" in the U.K. on May 9. Depp said, "I really would like to apologise for not smuggling my dogs into England because it would have been a bad thing to do," reported the Guardian.
An E! Online article noted, "Not that Heard doesn't have a sense of humor, but when it comes to a girl's dogs... Maybe she didn't appreciate her husband being so cavalier."
The star was seen by herself at the Met Gala 2016 and Depp has been promoting the sequel to "Alice in Wonderland" without Heard by his side.
Heard and Depp met while filming "Rum Diaries" in 2012. The two got engaged in January 2014 and tied the knot in Depp's private island in the Bahamas a year later.