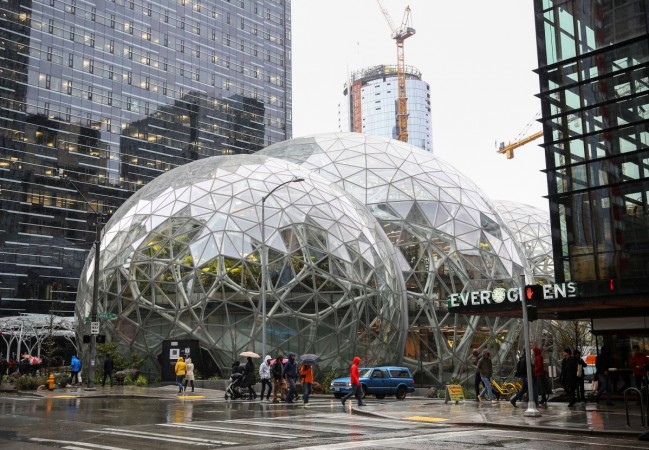 Whether or not you love nature, this awesome office space of e-commerce giant Amazon will make you gasp in awe.
It took seven long years for Amazon to complete its new office 'The Spheres' in downtown Seattle, and it's worth the wait as its employees can now feel like they are in a tropical rainforest rather than a typical concrete building.
Amazon founder and CEO Jeff Bezos inaugurated The Spheres by saying, "Alexa, open The Spheres" on Monday, January 29, in the presence of many dignitaries, including Washington Governor Jay Inslee and Seattle Mayor Jenny Durkan.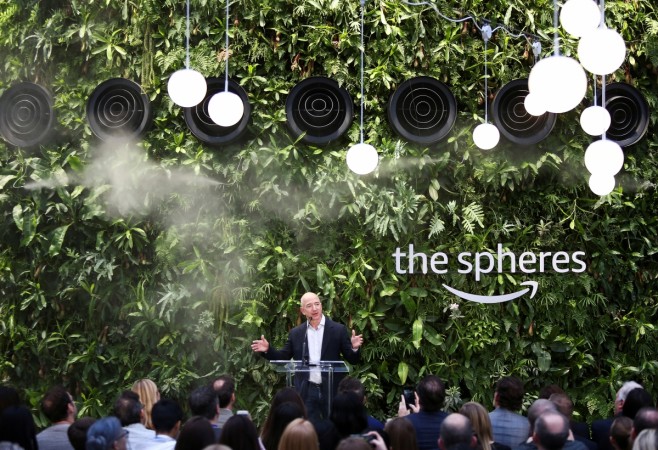 The $4 billion project includes three office buildings in the shape of spheres with the tallest measuring 90 feet (27 metres) in height and 130 feet (39 metres) in diameter. It houses more than 40,000 individual plants and over 300 plant species from more than 50 countries, providing an exotic experience.
The Spheres has treehouse meeting rooms, river, waterfall, palladiums, a four-story living wall, and epiphytic trees, besides the sound of running water and the scent of flowering plants, giving a unique feel to the visitors.
Studies have suggested that spaces that embrace biophilic design can inspire creativity and improve brain function. If that's the case, Amazon's new office space is perfect to boost the performance of the employees.
"Our goal with The Spheres was to create a unique gathering place where employees could collaborate and innovate together, and where the Seattle community could gather to experience biodiversity in the centre of the city," said John Schoettler, Amazon Vice President of Global Real Estate and Facilities in a statement.
"I am very proud and thankful to the entire team who made The Spheres a reality – they did a terrific job from the design all the way to the finishing touches. We are thrilled to officially open the doors."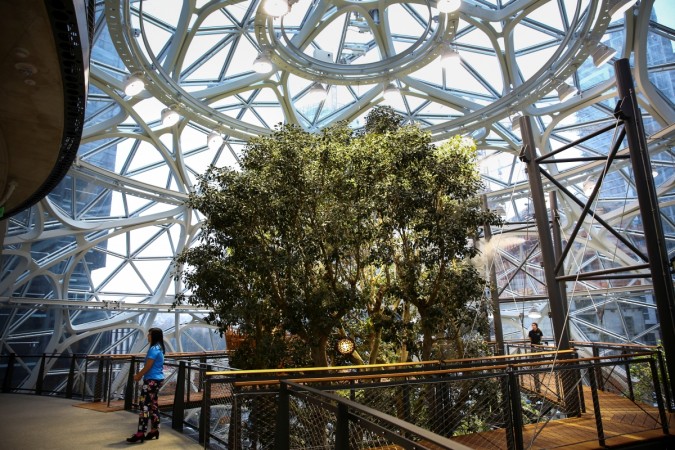 "The Spheres are sure to become an iconic part of downtown Seattle, and I applaud Amazon for its latest innovation," said Governor Jay Inslee. He went on to say that these unique buildings will "help conserve a number of rare plant species from around the world and provide countless educational opportunities for local students,"
The Spheres will be opened to Amazon employees starting Tuesday, January 30, while the public can have a fully immersive 360-degree experience of the science, engineering, and plants behind the project by going to the visitor center called The Understory. It will also be opened to provide educational opportunities to the Seattle community through tours, field trips and partnerships with local schools and universities.