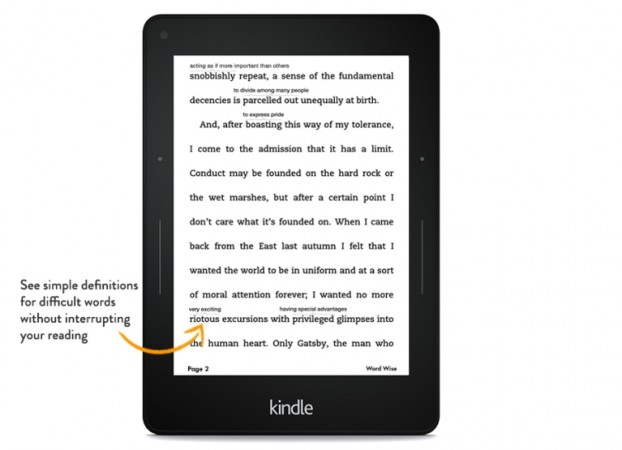 Amazon, the largest online retailer, has an OTA software update for its Kindle e-reader owners. The e-commerce giant started rolling out the update on Friday, which brings a series of new features to make the overall user-experience much more interesting.
According to Amazon, the new features of the update include Word Wise, Family Library, Kindle FreeTime Unlimited, expanded X-Ray for Books, Goodreads integration, improved search and in-depth information about books. These features will be made available to the $79 Kindle and Kindle Voyage along with other Kindle Paperwhite devices.
"We can't wait to hear what customers think about these new software features," Peter Larsen, Vice President at Amazon, said in a press statement. "Word Wise makes it easier for kids learning to read and readers learning English to understand more challenging books more quickly, with short and simple definitions that automatically appear above difficult words. Additionally, Family Library lets family members share books with a spouse or partner, without sharing an Amazon account."
All features will be available to eligible Kindle e-readers free of cost. As for Kindle FreeTime Unlimited, spending just $2.99 a month will open a vast library of kids' favorite books, which can be sifted through based on age. Popular titles such as the Harry Potter series, The Borrowers by Mary Norton, Big Nate and Friends by Lincoln Peirce, and Newberry Medal will be available for kids to read.
With the goodreads feature, users can share the progress updates on their reads and also see friends' updates, reviews and ratings for any book.
Owners of Kindle e-readers can fetch the update from the company's software update page or wait for the device to pull it via OTA.