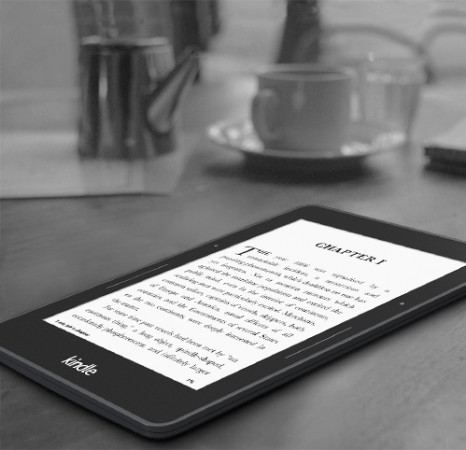 Amazon has announced its new Kindle tablet for readers in India. Named as Voyage, the tablet is touted to be featuring a higher resolution display with outstanding contrast in the thinnest possible footprint.
Apart from these, the new Kindle Voyage offers several features to impress the readers. Some of the features are mentioned below:
Size Zero
Kindle Voyage features an elegant design, with a beautiful flush glass display with a magnesium back; so it is strong, thin, and light. With thickness of just 7.6 mm, the Kindle Voyage weighs less than 6.4 ounces. Amazon claims Kindle Voyage is the thinnest device they've ever built, making it easier to hold with one hand and read for hours.
All New Paperwhite Display
Kindle Voyage boasts a brand new Paperwhite display, with the highest resolution, highest contrast, and highest brightness of any Kindle e-reader as yet. With 300 pixels per inch (PPI), the new Paperwhite display claimes to deliver laser-quality text and images. The exclusive flush-front display stack is designed to resist scratches. The anti-glare display is micro-etched in order to diffuse light, ensuring you can read easily in bright light without glare. The etching pattern on the glass also serves to match the feel of paper.
PagePress (New feature)
Kindle Voyage introduces PagePress, a new feature to turn pages. PagePress uses a custom-designed force sensor that sits directly under the bezel. You simply rest your thumb on the bezel and flip the page by lightly pressing. While flipping the pages, Kindle Voyage delivers tactile feedback from a haptic actuator. The actuator delivers just enough vibration to let you know you turned the page, but is subtle enough that you won't be distracted from your reading. You can personalise both the pressure level needed to trigger a page turn and the haptic feedback level.
Free 3G
Kindle Voyage is available with free 3G, which means users never have to hunt for or pay for a Wi-Fi hotspot — simply download and read books anytime, anywhere, in over 100 countries around the world. Amazon pays for the 3G connection - the user does not need to pay any monthly fee or sign any annual contract.
New Origami Covers
The new origami-style cover design is inspired by the best-selling Origami covers for Fire tablets, and provides a stand for both portrait and landscape positions. Origami covers attach magnetically so they are easy to take on and off, and automatically turn the Kindle Voyage on and off when readers open and close the cover.
Apart from these, the Kindle Voyage also offers worry-free archive, Vocabulary Builder, Kindle page flip, Smart Lookup, Whispersync with weeks of battery life.
The new Kindle Voyage, priced at Rs 16, 499/- is available starting 25 March at www.amazon.in and through 350 plus offline stores across the country.