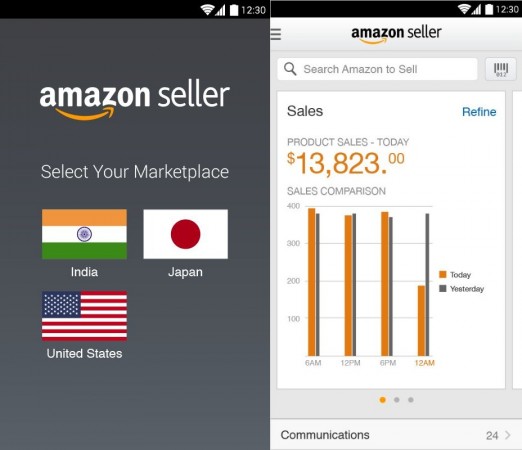 Amazon has announced an exclusive app to empower their sellers in India. The latest app features buyer-seller direct communication, order notifications, order details, shipment tracking with confirmation and order fulfilment notifications. Amazon India hopes the app will help their sellers by managing their business in an efficient way on-the-go.
The Amazon Seller app will also help the sellers to quickly update inventory, source and list new items on Amazon.in website and respond in real time to customer queries. Through the new app sellers can also view their sales summary for the same day, week to date and month to date, all at the touch of a button and hence evolve their sales strategy and grow profitably on the platform.
Globally, sellers using the Amazon Seller App have reported that they have a 30% faster response time to customer inquiries and grow listed offers nearly 10 times faster. Amazon.in has customised this best-in-class mobile app to address the unique business conditions of sellers in India by allowing listings of only new products and integrating the EasyShip in-browser experience.
Along with these features, the app also allows sellers to get important account related notifications, monitor the status of FBA inbound shipments sent to Amazon warehouse, and remotely monitor their inventory to ensure an optimal level of product availability.
One can use Amazon Seller App to:
Update Inventory: Search, sort and filter inventory items; Update prices and quantities on- the-go from mobile device
Confirm Orders: Receive notifications of new orders, review order details and confirm shipment on-the-go
Source New Items to Sell: Sellers can check current prices, sales rank and customer reviews of items on Amazon.in using text search or scanning barcodes
Estimate the profitability of the items before they are listed for sale: Sellers can add the product cost information to see the estimated profitability of their items for both Seller Fulfilled and Fulfilment by Amazon (FBA) fees
List New Items to Sell: This feature enables sellers to create new listing on Amazon.in quickly and easily from their mobile devices
Respond to Customers : Sellers can provide great customer service by responding to customer questions quickly from their mobile device
Access Support from Amazon: Have a question for Amazon.in? Registered sellers can use the app to contact seller support via email or phone call-back support. Sellers can also provide feedback about the app directly to Amazon from within the app.
The Amazon Seller App is available free for all sellers, and needs only a sellers' registration on Amazon.in to operate. The app is currently available for Android and iOS devices and can be downloaded from Google Play Store, Apple iTunes Store and the Amazon Appstore.