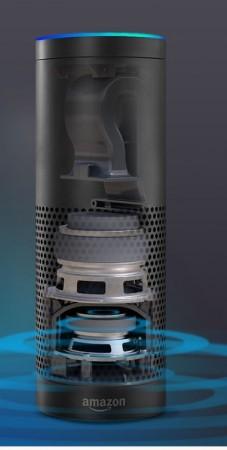 Amazon has announced a Bluetooth/ Wi-Fi-based stand-alone speaker that acts as a speaker unit with personal assistance feature called Alexa. The cylindrical shaped speaker lets you stream your music and ask anything comes up in your mind. The Echo will connect to the Wi-Fi, search the web and reply back to you with convincing answers.
Alexa, the character responsible to reply your queries or place order online, behaves quite similar to Apple's Siri or Microsoft Lumia's Cortana. The Echo usually connects instantly to the previously paired devices through Wi-Fi or Bluetooth and waits for the user's choice of play. If the user plays a track, it streams accordingly and if the user asks "Alexa" to wake it up, Echo instantly gets ready to sum up to your queries.
Priced at $199, the Echo is already available on the Amazon stores for buying. Amazon is also offering a special price of $99 to the members of Amazon's fast-shipping programme.
This year Amazon has come up with too many devices including Amazon Fire phone, Amazon Fire TV stick and a set-top box for TV.
The Echo actually connects to the internet and runs on developer's cloud-computing service, Amazon web services.
The Echo allows user to order things easily to the web retailer through user-given voice commands and later confirms the purchase through an app.
Amazon had already unleashed an app to manage your alarms, music and shopping list to name a few from anywhere. The app is already made available to Fire OS, Android and iOS platform.
According to Amazon, Echo will be able to give you updates on news, weather information and updates. It can also play music from Amazon Music library, TuneIn and iHeart radio as well as play voice-controlled alarms and reminders. It will also reply back to the queries like "when is thanksgiving day?"
Measuring 9.27x3.27-inch the Echo features a 2.5-inch woofer, 2.0-inch tweeter and an array of seven microphones. The Echo bundles a remote control unit with a built-in microphone with music player and volume-control buttons.