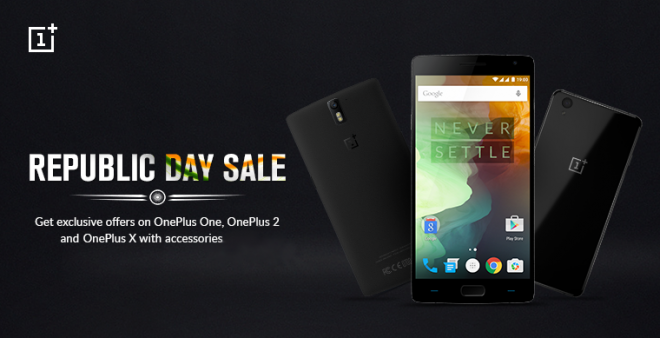 Amazon Great Indian Sale 2016 brings some exciting deals across the site, but OnePlus is offering attractive discounts on its entire product range, including accessories. OnePlus smartphones, OnePlus X, OnePlus 2 and OnePlus One, are Rs 2,000 cheaper than their original price tags.
Amazon Great Indian Sale 2016 started on 21 January and runs through 23 January. OnePlus discounts will be valid throughout the sale period. To make things easier, shoppers won't require invites to purchase the discounted OnePlus X smartphone, but this is only till the sale lasts.
OnePlus smartphones are priced efficiently and the new discounts make them all the more affordable. With Rs 2,000 off on all smartphones, OnePlus X Onyx 16GB variant is available for Rs 14,999 and OnePlus One 64GB is available for Rs 17,999, which is just Rs 1,000 more than the 16GB variant. The limited period offer on OnePlus 2 smartphone is beyond interesting. OnePlus 2 Sandstone Black 64GB is available for Rs 22,999, which is the same price as the 16GB variant.
OnePlus is also extending its discounts for select range of accessories. The company is offering 20% off on OnePlus 2 accessories, including OnePlus 2 flip cover, OnePlus 2 StyleSwap rosewood cover and OnePlus 2 Tempered Glass Screen Protector. Sadly, there are no discounts on OnePlus Icons earphones (Rs 2,999), OnePlus Silver Bullet earphones (Rs 899) and OnePlus X accessories.
"As a run-up to celebrating our country's 66th Republic Day, OnePlus is honouring this momentous occasion with something truly special for our fans," the company said in an email statement.
Amazon Great Indian Sale 2016 also brings attractive discounts on a wide range of products. Several smartphones, including iPhone 6s, Nexus 5X, Nexus 6P and others are available with huge discounts. The sale ends at 11:59 pm on 23 January, post which the original prices for the products will be restored.
Amazon has partnered with Citi Bank to offer additional 10% cash back during the sale.