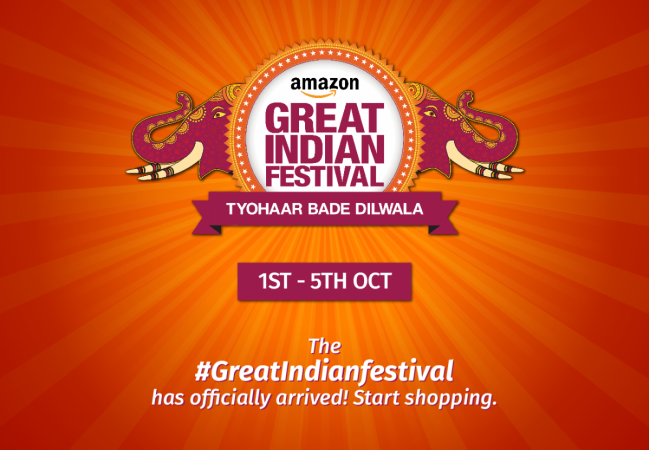 It's the final day of Amazon's Great Indian Festival sale and the last chance to grab the best deals on products. Amazon kick-started its Diwali sale on October 1, a day sooner than its rivals Snapdeal and Flipakrt, and it will also be ending it a day before the other two retailers conclude their respective sales on Wednesday.
As a part of final day of the sale, Amazon is offering some great deals on a wide range of products. Smartphones and other electronics remain the highlight of the sale. Below we have shortlisted some of the offers that will no longer be available Wednesday onwards. So if you really wish to purchase any of them, better act fast.
Amazon offers on smartphones
Xiaomi Redmi note 3: Rs. 10,999 (Rs. 1,000 off)

Moto G Plus: Rs. 11,999 (Rs. 1,500 off)

Samsung Galaxy On7 Pro: Rs. 9,990 (Rs. 1,200 off)

Lenovo Vibe K4 Note: Rs. 9,999 (Rs. 2,000 off)

Coolpad Mega 2.5D: Rs. 5,999 (Rs. 1,000 off)

Yu Yuphoria: Rs. 4,499 (Rs. 3,500 off)

Lenovo Vibe K5: Rs. 6,999 (Rs. 500 off)

Coolpad Note 3: Rs. 7,499 (Rs. 2,000 off)
Amazon offers on TVs
Sanyo 32-inch HD Ready TV: Rs. 12,990 (Rs. 7,000 off)

Infocus 50 inch Full HD TV: Rs. 26,990 (Rs. 9,009 off)

TCL 55-inch 4K UHD TV: Rs. 45,990 (Rs. 3,000 off)

LG 32-inch HD Ready TV: Rs. 19,350 (Rs. 7,550 off)
Amazon offers on laptops
Microsoft Surface Pro 4: Rs. 58,890 (Rs. 22,709 off)

Apple Macbook Pro 13-inch 500GB: Rs. 49,899 (Rs. 29,001 off)

Acer One 10 10.1-inch: Rs. 13,650 (Rs. 5,349 off)
Other offers
Seagate 1.5TB Expansion external drive: Rs. 4,499 (Rs. 1,293 off)

Xbox One Console with Kinect - Halo: The Master Chief Collection Bundle: Rs. 24,990 (Rs. 21,000 off)

Call of Duty Ghosts (Xbox One): Rs. 1,299 (Rs. 1,700 off)

Sunset Overdrive: Rs 749 (Rs. 3,550 off)
For those who want more offers can explore various categories on Flipkart and Snapdeal throughout Wednesday. ShopClues is also holding a Diwali sale, which runs till October 10.