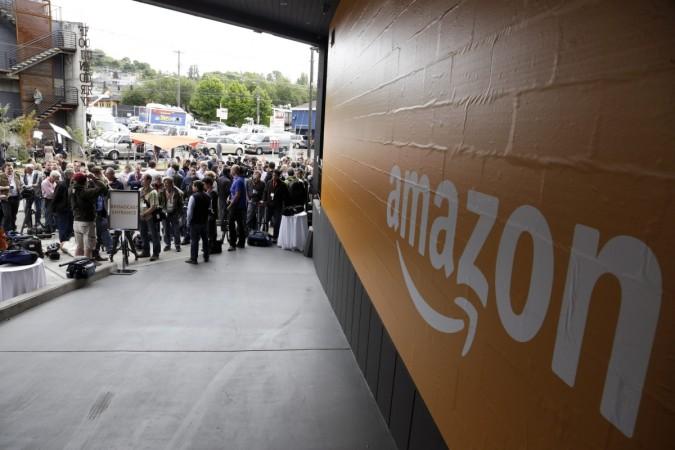 E-commerce firm Amazon had tremendous sales on Black Friday, especially through mobile app in America last year.
In 2015, the company, in its bid to sell more, has kicked off 8-day long thanks-giving festival season based "Black Friday Sale Week" in the US starting 20 November.
Amazon is offering discounts up to 70% on electronic items such as smartphones, tablets, PC (& console) games, smart TVs, home and kitchen appliances.
"Customers can truly sit back and relax with their family and friends this holiday season knowing that they will be notified as soon as the products they've had their eye on are about to go on sale," said Steve Shure, Vice President, Amazon Consumer Marketing.
"Year after year, more and more customers shop for deals on Amazon from the comfort of their own home, and we continue to make that process even more convenient for them. And with App Only Deals, customers will have plenty of options when it comes to scoring great deals from Amazon," he added.
Besides the discount offers, Amazon consumers will be notified of more than 150 hand-picked lightning deals for a limited period on all eight days. People with Prime subscription will be given 30-minute early access to those aforementioned deals.
The company also added that consumers will get access to 10 special 10 deals a day starting midnight on Thanksgiving Day (Wednesday, 26 November) and 10 more on the Amazon festive season's concluding day (27 November).
Here's what Amazon is offering in the upcoming "Black Friday Deals Week":
Smartphones (unlocked and pre-paid)
40% off on Google-Motorola Nexus 6
25% on Sony Xperia Z3 LTE
33% off on Blu Life One
33% off on Alcatel Pixi3
9% off on Blu ENERGY X
Electronics-
Kindle Paperwhite, $99.99
$30 off Kindle and Kindle for Kids Bundle
Fire, $34.99
Fire Kids Edition, $84.99
$25 off Amazon Fire TV
$15 off Amazon Fire TV Stick and Amazon Fire TV Stick with Voice Remote
Up to 45% off select Samsung and LG TVs, including Samsung 32" 1080p LED TV for $177.99, LG 49" 1080p LED TV for less than$370, and Samsung 75" 1080p Smart LED TV for less than $2,000
Top-selling 60" 4K LED TV, $799.99
TCL 55" Roku Smart LED TV, $348
Hisense 55" 4K Smart LED TV, $448 (App Only Deal)
50" 1080p LED TV, $149.99 (App Only Deal)
40" 1080p LED TV, $145
TCL 32" Roku Smart LED TV, $125
32" LED TV, $75
Acer Home Theater Projector, $299.99
VIZIO 38" 2.1 Home Theater Sound Bar, $79.99
$49 off SONOS 2-Room Streaming Music Starter Set
Save 40% on Polk Audio Omni S2 Wireless Speaker
Up to 25% off Denon HEOS 1 Wireless Speakers
50% off Sony Extra Bass Bluetooth Headphones
Save more than 50% on Sennheiser HD 598 Special Edition Over-Ear Headphones in Black (Amazon Exclusive)
More than 50% off on top-selling point-and-shoot camera
Jawbone UP3, $99
Save $100 on an Intel-Powered Dell 2-in-1 Laptop
ASUS 15-inch laptop, $129
Up to 40% off select Acer desktops, monitors, chromebooks, and tablets
Save more than 20% on select Samsung Galaxy Tablets
Save up to 70% on select SanDisk memory cards and USB flash drives
Top-selling mobile printer for less than $100
Books, Music & Video Games-
80% off on Transformers: The Covenant of Primus
Save more than 50% on Deathstroke Volume 1 Book and Mask Set
Save on more than 10 autographed CDs, including Kenny Rogers, Megadeth, and more (Amazon Exclusive)
Save 15% or more on select vinyl records
Save $20 on Need for Speed
Save $30 on Rock Band 4 Wireless Guitar Bundle
$50 off on Xbox One Consoles
$50 off on PlayStation 4 Uncharted Bundle
$25 off on Metal Gear Solid V
Hundreds of PC download deals up to 70% off
[To check out the deals on other products, click HERE].