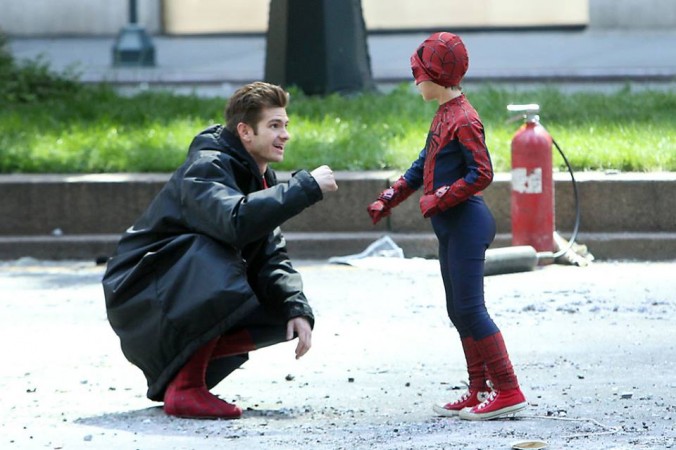 Even as "The Amazing Spider-Man" fans are anticipating the release of "The Amazing Spider-Man 3" with baited breath after Andrew Garfield managed to steal many hearts as Peter Parker, questions are being raised whether Sony will delay its plan for the third sequel of the movie.
Rumour has it that the Garfield's movie is postponed as Sony has scheduled its spin offs namely "Sinister Six" and "Venom Carnage" for an early release. It is speculated that Mary Jane Watson will deatures in both the movies and she may find a place in "The Amazing Spider-Man 3's" plot line too.
Warning: "The Amazing Spider-Man 3" spoilers ahead
It may be recalled that Emma Watson's character Gwen Stacey died in "The Amazing Spider-Man 2" and this has led to speculation that Mary Jane could be Peter Parker's new love interest. Moreover, Spider man is going to be present in both the "Sinister Six" and "Venom Carnage" and so Sony may build up his new love story with Watson, according to a report by Movie Pilot.
There are also reports suggesting that Gwen Stacey might come back to life in "The Amazing Spider-Man 3." In the comic books, an Empire State University professor, who falls in love with her, gets mad when she passes away and bring her back to life.
It is also suggested that Spider man may join hands with Marvel supergroup, The Avengers and become a part of civil war which is speculated to take place in "Captain America 3," according to further reports by the website.
There is no confirmation on the report of Spider man becoming a part of the Marvel superheroes team, but if it happens, the civil war between the superheroes could take an interesting turn.
It has also been suggested that Gwen Stacey could become a woman spider man. Her character can take ahead the story of "Spider Verse" series according to a report by Hallel.
Speculations are doing the rounds that if Stacey does not returns to "The Amazing Spider-Man 3," she may have a whole series dedicated to herself where she would play the female version of Spider-Man and Peter Parker could become a vision of Lizard.