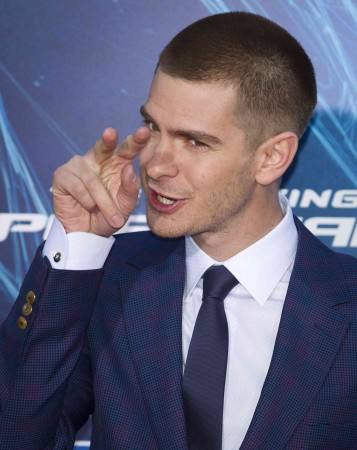 "Amazing Spider -Man 2", has gotten the cash registers ringing at the box office. The Andrew Garfield and Emma Stone starrer has been highly appreciated by the audience, especially for its shocking twist—Gwen Stacy's (Emma Stone) death.
However, fans can't seem to think what life has in store for Peter Parker post Stacy's death. With "Amazing Spider- Man 3" in pipeline , the burning question is how Parker will move on from the death of the love of his life. (Warning! Spoilers Ahead)
"It's going to be really difficult for Peter Parker to move forward," director Marc Webb told Entertainment Weekly, adding: "But that's the challenge of it: How do you recover from that? That's going to play out in the next movie."
Rumors suggest that Felicia Hardy, who had a small part to play in "Amazing Spider -Man 2", could play a major part in the sequel. Hardy's alter ego is Black Cat, Spiderman's stalker. Fans of the film believe that Hardy/Black Cat follows Spidey to make him believe that she belongs with him. So could, Hardy play Parker love interest in the film?
Another speculation suggests that Parker's staple love interest Mary Jane could star in "Amazing Spider-Man 3". Shailene Woodley had previously shot a few scenes as Jane for "Amazing Spider-Man 2", but the scenes were not used in the film.
"I shot three days and they were good scenes, but they were also like 45-second long scenes, and to introduce such a vital character like that doesn't make much sense in the end. In the beginning I don't think it was something anybody ever really thought about, because it was just like, OK, we'll introduce MJ in this one and bring her back in the next," Woodley told MTV News about her role being cut, hinting that MJ could come in the sequel.
It could also happen Kraven -The Hunter, one of the founding members of "The Sinister Six" could make his way in the "Amazing Spiderman "sequel.
"Kraven. I like the idea of Kraven. The Vulture. Ock. I always thought the idea of Mysterio was interesting. Maybe Scorpion. But really, Kraven I think is kind of interesting." Webb said in his interview with Comicbook, while contemplating the idea of new villains in "Amazing Spiderman" sequel.
Kraven-the Hunter is a classic Spider-Man villain, created by Stan Lee and Steve Ditko.