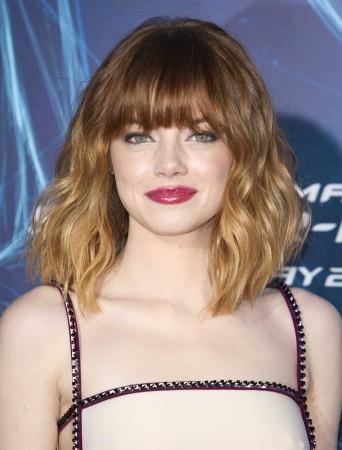 Gwen Stacy and Peter Parker's love story will come to an end at the end of the "Amazing Spider-Man 2" as Emma Stone's character is expected to die following a tragic turn of events.
Speculations have been rife for a while now about Gwen's death, after fans of the comic book series spotted pictures of Stone dressed similar to Gwen in a thigh-high boot, mini skirt and green jacket, when the character was killed off.
"Don't leave me, don't leave me!" Spider-Man cries after his multiple attempts to save his lady love fails. Spider-Man will be battling his former best friend Harry, when Gwen plummets to her death and although he attempts to save her by casting his spider web, it does not reach her in time.
The final scene of the movie has a plain-clothed Parker attending Gwen's funeral with his aunt.
When asked about her character's death, Stone refused to give a definite answer to MTV's Josh Horowitz. Instead, she replied asking: "Will she? Is it up to you? Did you write the script? Did you ghost-write the script?"
Meanwhile, "The Amazing Spider-Man 2" has been getting good reviews from reviewers. Rotten Tomatoes, the movie review aggregator, has given the movie 67 percent on the Tomatometer based on 83 reviews.
The chemistry of the lead pair Andrew Garfield and Stone, who are a couple in real life too, has been appreciated by a number of reviewers.
"Garfield and Stone spark with the most power. As flirty Gwen needles Peter about his 'big brown doe eyes' and Peter teases her about her hearty laugh, the banter is reminiscent of a charming rom-com," wrote Us Magazine's Mara Reinstein, giving the movie 3.5 stars out of 4. "Their closeness is woven throughout a film that infuses high-flying moments from the get-go."
[ED:VS]