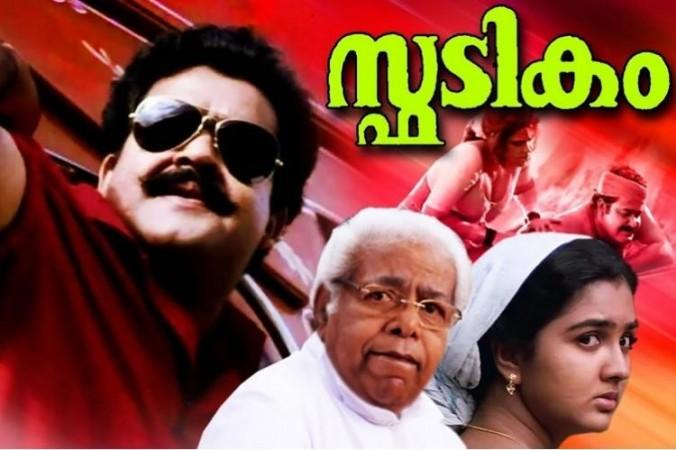 An amateur director named Biju J Kattackal has been receiving widespread criticisms from social media users after he announced a sequel to Mohanlal's yesteryear blockbuster 'Spadikam'. After Biju Kattackal announced the film, social media users lashed out at the director alleging that he is trying to destroy the cult status of the yesteryear flick helmed by Bhadran.
It was on September 08 that Biju J Kattackal initially announced his plans to make a movie which will be a sequel to 'Spadikam'. The young filmmaker also unveiled an official first look poster which seems to be amateurishly designed.
The director also revealed that the movie will feature the story of Irumban Sunny, the son of Aadu Thoma (The character played by Mohanlal in Spadikam). Biju added that the character of Irumban Sunny will be played by a young Superstar in the industry. He also hinted that Sunny Leone will portray another pivotal role in this flick.
As the news went viral, trolls posted criticisms against the director on Facebook film groups like 'Cinema Paradiso Club', 'Movie Street' and 'Afx Movie Club'. Most of the users argued that 'Spadikam' is a cult classic, and there is no need for a sequel for this movie.
Some other users sarcastically said that the news of 'Spadikam 2' is more tragic than Mohanlal's entry into politics as the BJP candidate.
In the meantime, a section of social media users argued that Biju J Kattackal has announced a sequel to 'Spadikam' just to gain negative publicity. These people also added that an amateur director like him could not materialize a sequel to one of the all-time hits in Mollywood.
Bhadran, the original director of 'Spadikam' too took his Facebook page and revealed that a sequel is not on cards.
"There is only one Spadikam, and it has already happened years back. There will be no more Spadikam," said the director.