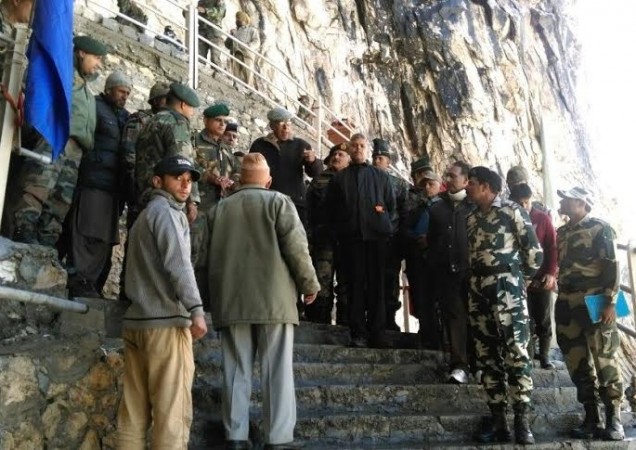 Intelligence agencies warned that Pakistan terror groups may launch suicide attacks on the Amarnath Yatra pilgrims, following which the Indian Army launched 'Operation Shiva' to thwart any terror attack during the course of the holy journey, which began on Thursday.
Each year, thousands of Hindu pilgrims visit the Amarnath cave shrine in the Himalayas in south Kashmir, and the Shri Amarnath Shrine Board (SASB) has said that more than two lakh people are likely to take the yatra this time.
Pakistan terror groups, including the Lashkar-e-Toiba, have sent about 10 to 15 terrorists into Jammu and Kashmir to carry out suicide attacks on the Amarnath Yatra pilgrims, NDTV reported.
The Indian Army has deployed 7,500 soldiers under 'Operation Shiva' to ensure the terrorists do not strike pilgrims during the 59-day yatra, the report said.
The Home Affairs Ministry has also put in place tight security arrangements for the Amarnath yatra. Home Minister Rajnath Singh met Governor NN Vohra in Srinagar on Wednesday to discuss security measures ahead of the yatra.
"There are credible inputs that some elements may try to attack the yatra. We have made all possible arrangements and taken all possible precautions, but nonetheless we cannot let our vigil or guard down," Kiren Rijiju, Minister of State for Home Affairs, told the news channel.