The terror attack on Amarnath Yatra pilgrims in Jammu and Kashmir's Anantnag district would have been a deadlier narrative if not for the courage and presence of mind shown by the bus driver who risked his own life and drove over 50 passengers to safety while terrorists fired bullets at his vehicle.
The bus driver's name is Sheikh Salim Gafoor. His act of bravery and valour won him praises from the survivors of the attack as well as politicians and citizens from across the country, who thanked Salim for saving over 50 lives despite heavy firing by terrorists on the Srinagar-Jammu highway.
Seven pilgrims, six women and a man, lost their lives while 19 others were injured after terrorists fired at an unescorted bus carrying Amarnath Yatra pilgrims in the Batengoo area of Anantnag on Monday evening.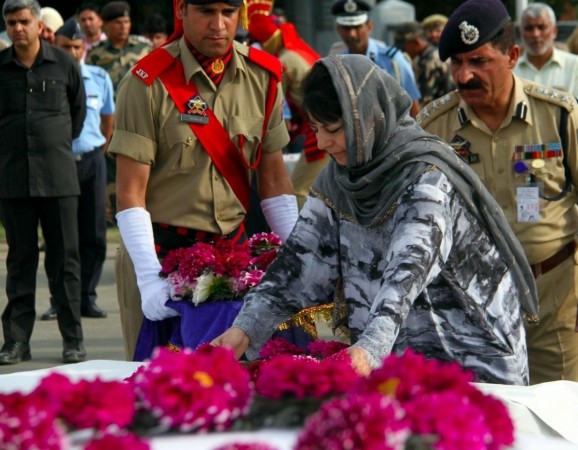 "The firing started around 8 pm. There was continuous firing but I kept on driving. I wasn't injured but people around me were. God gave me the strength to keep moving and I just did not stop anywhere," Salim told reporters on Tuesday. He drove the bus for over a kilometre amid raging bullets and stopped only after he reached an Indian Army camp.
Salim's courageous act was also lauded by Javed, his cousin, who said that he was "proud" of what his brother had done. "He (Salim) called me up around 9.30 pm informing about firing on the vehicle. He told me that he did not stop there when terrorists fired, only looked for a safer spot for pilgrims. He couldn't save seven lives, but managed to move 50 people to a safe place. We are proud of him," Javed told the media in Gujarat's Valsad.
'Thank you for saving our lives'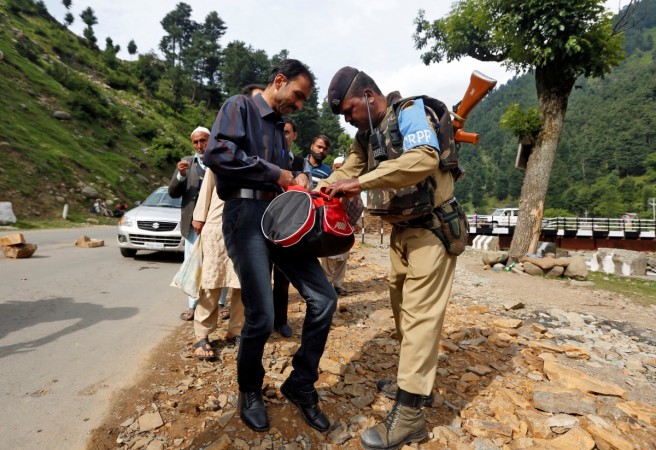 Survivors of the deadly attack heaped praises on Salim for continuing to drive and not stopping the vehicle amid raging bullets.
"He kept driving and drove the bus to the DIG office, where all of us were secured,'' Sudhir, who was travelling with his wife and daughter, was quoted by Hindustan Times as saying.
Yogesh Prajapati, another passenger, told India Today that the driver's calm attitude and quick thinking saved many lives. "We ducked under our seats as bullets flew from all directions. Luckily, the driver didn't panic and kept on driving," Prajapati said.
Inspector General of Police Kashmir Munir Khan also lauded the bravery of the driver. "I spoke to the passengers and they were all praises for the driver. He drove despite the firing and took them to safety. It made a lot of difference and lives were saved. He did not stop. Had he stopped, more lives could have been lost," Khan told OneIndia.
Praising Salim, a CRPF officer told News18, "The assailants tried to kill the bus driver but they missed him several times. The driver showed a presence of mind to keep driving till he reached Khanabal and saved many lives."
Salim's brave act also won him the praise of Gujarat Chief Minister Vijay Rupani, who said on Tuesday that: "We want to thank the bus driver who saved many lives amid heavy firing. The Gujarat government will nominate Salim for the bravery award with the central government."
The Jammu and Kashmir government has also announced a Rs 3 lakh award to Salim for his bravery, ANI reported.
Twitter praises the 'true hero'
Twitteratti also did not stop themselves from lauding the courage and the bravery of Salim for having risked his own life to save the lives of the pilgrims in Anantnag.
Salutes to U Driver Salim for saving the #AmarnathYatris .Should be awarded with d highest bravery award.#IndiaForAmarnath pic.twitter.com/ccsWLAiRXo

— Ashoke Pandit (@ashokepandit) July 11, 2017
Meet the driver who saved several life's last night from terriost attack in #Anantnag His name is "Saleem". Yess, A Muslim. pic.twitter.com/CSsqajw8J6 — Abhishek Gupta (@IACAbhi) July 11, 2017
When terrorists attacked #AmarnathPilgrims,bus driver Sheikh Salim Gafoor maintained his calm,kept on driving n saved 51 lives !
Real Hero pic.twitter.com/WN2z4Vd6GE

— Maj Surendra Poonia (@MajorPoonia) July 11, 2017
Driver of the bus Salim Sheikh, who risked his life to save several passengers. True hero. @IndiaToday pic.twitter.com/ZdP2acVVwg — Shiv Aroor (@ShivAroor) July 11, 2017
Salim,the driver of bus carrying #Amarnath pilgrims is the real hero of yday's attack,drove through hail of bullets,saved more than 50 lives

— vijaita singh (@vijaita) July 11, 2017
Sources say driver of the bus salim refused to stop the bus : braved it and ensures lives could be saved .. real hero — pallavi ghosh (@_pallavighosh) July 11, 2017
#AmarnathTerrorAttack spirit of Indianess was shown by salim (Driver) who bravely rescued the pilgrimse of amarnath yatra.salute to him.

— Israfilhussain (@Israfilraj) July 11, 2017
#AmarnathTerrorAttack please don't call it Muslim attacked hindu. Don't forget get Salim the bus driver who saved many lifes. — Ashish Kishor (@ashishkishor) July 11, 2017