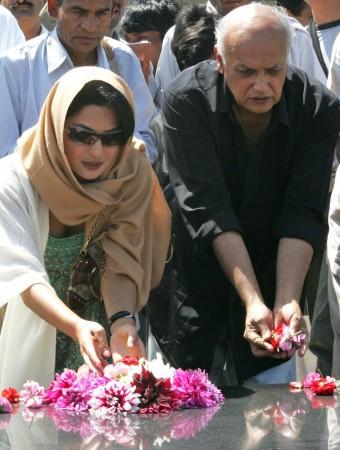 A group of anguished filmmakers in Pakistan, lead by Syed Noor, recently moved a Lahore court seeking restrictions on screening of Bollywood movies in that country. They alleged that distributors and theatre owners in Pakistan were biased and preferred Bollywood films to the local movies.
The Lollywood filmmakers' complaint came five years after Pakistan conditionally lifted a 37-year ban on the screening of Bollywood movies in 2006.
"Any Indian film with a Pakistani co-producer or cast that is shot outside India can be released in Pakistan," the government said when it lifted the ban. Mahesh Bhatt's "Awarapan" and Ammtoje Mann's "Kaafila" (both released in 2007) were the first two movies to be screened in Pakistan after the lifting of the ban. Following this, many Bollywood movies were released in that country which had either a Pakistani co-producer or cast and were shot outside India.
Bollywood movies are very popular in Pakistan because they are technologically more advanced than the local movies. Also, the films which are shot in exotic foreign locations give a vicarious pleasure to the average Pakistani filmgoers. Moreover, the masala which flavours Bollywood movies is missing in Lollywood films.
The Pakistani filmmakers say the unrestricted screening of Bollywood movies has left them in a crisis. They allege that illegal means are being used to screen Bollywood films in Pakistan and so they demand restrictions on Indian movies.
Is Bollywood the only winner in the cross-border silver screen business? Hasn't it helped the Pakistani film industry, its artistes and technicians too?
Those who demand restrictions on movies from India should realize that it will eventually affect the film industry in Pakistan, feel many artistes who worked in both film industries.
"We have seen the results of restrictive policy in the past which ended up in destroying cinema industry due to lack of public interest to go into theatres and now we have seen the progression also since foreign films have started to showcase. It is in interest of the rebuilding process that any kind of restriction is created," Pakistani pop singer and Bollywood actor Ali Zafar was quoted as saying by the Times of India.
Ali Zafar made his debut in Abhishek Sharma's 'Tere Bin Laden' (2010). His second Bollywood film 'Mere Brother Ki Dulhan,' directed by Ali Abbas Zafar, turned out to be a box office hit. The movie has made him a darling of Bollywood fans. Right now, he is acting in Anu Menon's directorial debut venture film 'London, Paris, New York.'
Like Ali Zafar, there are many others who have benefited from the lifting of the ban by Pakistan in 2006. Atif Aslam has made a successful career as a playback singer in Bollywood. He sang in movies like "Race," "Bas Ek Pal," "Kismat Konnection," "Ajab Prem Ki Ghazab Kahani," "Prince," and "Faltu."
Director Rahul Dholakia has offered a role to famous Pakistani actor and model Imran Abbas in his upcoming film on Indo-Pak brotherhood.
Ali Zafar gives all credits to Bollywood movies for the production of some of the good movies in Lollywood. He says hits like 'Bol' (2011) and 'Khuda Ke liye'(2008) would not have been possible without the influence of Bollywood.
Pakistani filmmaker Shoaib Mansoor proved that the cooperation between two film industries could result in classics like 'Khuda Kay Lia' (2008). The film featured Pakistani actor Shan and model Imam Ali along with a special appearance of Indian actor Naseeruddin Shah as a Muslim cleric.
Restricting the screening of Bollywood movies is not the way for Pakistani film industry to resurrect from the present crisis. There should be a mutual give-and-take between film industries of both countries in terms of sharing of market, talent and equipments. This is aman ki asha.