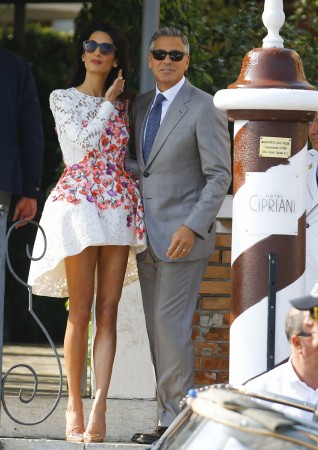 Now that the newlywed bliss has worn off, the reality of life is intruding. It seems Amal is not at all taken with George Clooney's habit of munching in bed.
"Like lots of guys, George loves munching tasty treats at bedtime. But he's whining to pals that Amal's acting downright appalled by what she calls his 'nasty habit," Showbizspy quoted a source.
It is being further said that Amal is not happy with the actor's friendship with Cindy Crawford. According to reports, the British lawyer is unhappy with the George and Crawford friendship. She apparently wants to make sure that "she is the only one in George's life, reports the Website.
However, these seem to be just rumours as the couple was recently seen celebrating its first thanksgiving. The duo was spotted boarding a plane for a holiday in the US on Thursday. Though it is not known where they were headed, they looked in high spirits, according to Inquisitr.
Amal was dressed in black ripped jeans, white t-shirt and a cream jacket. She kept her hair open and coupled her look with a pair of black shades and matching shoes. Meanwhile, George wore a grey jumper, blue jeans and a blue jacket. He added a muffler and a cap to lend an edge to his outfit.
The two pulled their luggage themselves and were quite warm to the airport staff, according to The Express.
George and Amal got married in Venice on September 27. More than 100 guests attended their wedding. Cindy Crawford's husband Randy Gerber was the best man. Amal wore an Oscar de la Renta creation for her wedding whereas George wore a custom designed tuxedo by Giorgio Armani.
"George and I wanted a wedding that was romantic and elegant, and I can't imagine anyone more able than Oscar to capture this mood in a dress," she said to Vogue about her wedding dress. "Meeting him made the design process all the more magical, as he is so warm and such a gentleman."