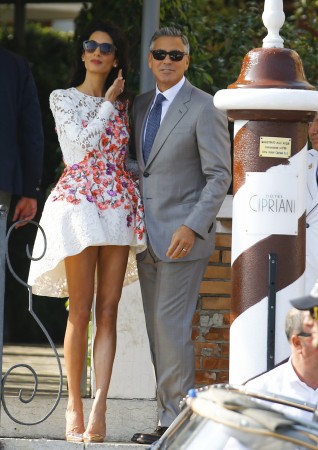 Amal and George Clooney seem be in disagreement with their first baby plans. A recent report suggests that the London-based barrister is not convinced that she should start a family at the moment.
"George wants a child right away, but Amal feels overwhelmed," Epoch Times quoted a source from the National Enquirer. It is also being said that Amal's resistance has spurred "tension" between the newly weds. The 36-year-old reportedly wants to adjust to the "new found fame" and married life before taking the next step.
However, it is Clooney who apparently wants to become a father due to his age. "George did a 180-degree turnaround on his no-children stance. Part of it is due to his age, but he'd also finally met the woman of his dreams," the website further quoted the source.
Moreover, both Amal and George's families are rumoured to be looking forward to a grandchild. It should be known that there is no confirmation to these reports.
On one of the previous occasions, Clooney's rep had denied rumours of the couple adopting a child from Syria. A report had originated suggesting that Amal and George want to highlight the plight of orphans in Syria and are planning to adopt a child from the war-torn country. It was also said that the Oscar-winning actor's friend Brad Pitt had inspired him to adopt a child. However, nothing of the sort seems to be happening.
Amal and George got married in September. They exchanged the nuptials in a state-of-the-art ceremony in Venice. More than 100 guests attended their wedding. Amal wore an Oscar de la Renta's creation and Clooney wore a custom-made tuxedo from Giorgio Armani.
"George and I wanted a wedding that was romantic and elegant, and I can't imagine anyone more able than Oscar to capture this mood in a dress," she said to Vogue. "Meeting him made the design process all the more magical, as he is so warm and such a gentleman."
Since exchanging vows, the Clooney couple has been spotted on various dates. Their rep is yet to confirm the family planning rumours.