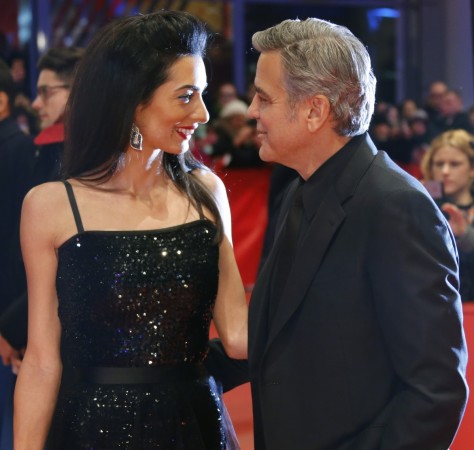 George Clooney and Amal Alamuddin have made honest attempts to stay off the limelight as much as possible. But it looks like divorce and pregnancy rumours keep haunting their marriage. And just when the rumours about the international lawyer being pregnant with their first child went really wild, the 54-year-old actor finally spoke about it.
Recently, Clooney attended the Good Money Gala in Amsterdam, and during his media interaction, one of the reporters asked him about the rumours revolving around his wife's pregnancy and if the couple was indeed going to have their first child soon.
The actor, in his signature style and in the most subtle way possible, responded to the question. "No. But I like that you started that rumour," he said in a humourous manner.
So, now this is clear that the barrister isn't pregnant. But apparently, she has threatened divorce if the actor doesn't give up certain friends and hobbies she isn't fond of.
It has been widely reported that Alamuddin isn't a great fan of some of Clooney's friends in general, and Rande Gerger and his wife Cindy Crawford in particular. And at the same time, there was another rumour which suggested Alamuddin was having a feud of a sorts even with Angelina Jolie.
And now, a new report has suggested the human rights lawyer has been demanding that her husband give up hobbies and activities she doesn't like. According to JobsnHire, Alamuddin has asked the Oscar-winning actor to quit his yearly "guys only" motorcycle getaway with best friend Gerger. The website also said Alamuddin has threatened divorce if he doesn't give up these road trips.
Well, we really don't know whether to go by these stories, as the couple looks really happy and content together. In fact, recently, the two of them were in Berlin to promote the actor's new film when they met German Chancellor Angela Merkel for about half an hour and discussed the refugee/migrant crisis in Europe.
Clooney and Alamuddin tied the knot in 2014, and have ever since have fallen victim to various divorce rumours, but none of which have ever come true. Let's just say even this might be just one of them.