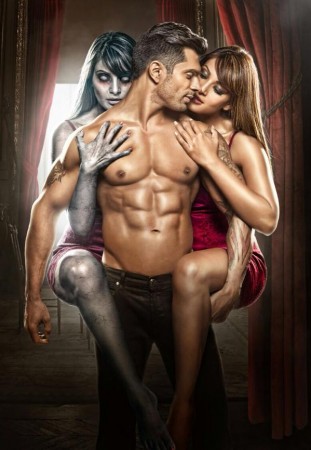 Bipasha Basu and debutante Karan Singh Grover's "Alone" trailer is scary, but also gives off a sense of Déjà vu.
Directed by Bhushan Patel, the film looks eerily similar to one of his films "1920: Evil Returns".
The story follows conjoined sisters Anjana and Sanjana (both played by Basu) who promise not to peel away from each other in life. Unfortunately, owing to mysterious circumstances one of the two passes away. Years after the episode, the dead sister returns to haunt the one surviving.
While the trailer has created a strong buzz among the lead pair's industry friends, viewers are more intrigued by the posters in which the back-from-the-dead sister is seen snaked around Basu's contours.
However, what's interesting to note is Basu has featured in a string of horror movies and has been given the 'horror queen' tag. "There was no plan that I want to be a horror queen. Yes, it's a genre which get many eyeballs and it's very entertaining to watch at the theater. I am fine if you call me horror queen as long you are watching my film and getting entertained," IANS quoted the actress as saying.
Slated to release on 16 January 2015, Basu's work and the official trailer has been praised by her colleagues on Twitter. Here are some of the posts:
Hrithik Roshan: Saw the trailer of #Alone with @bipsluvurself and I was blown away. This is horror with elegance! Get ready!
Abhishek Bachchan: I am never ever going to meet @bipsluvurself ALONE again. Trailer all the best with this one Bips. Scary as hell!
Karan Johar: this is super scary!!!! And seems completely intriguing!!! @bipsluvurself
Sonu Sood: Bips u r not supposed to show me the trailor of ALONE when I'm alone in the flight..@bipsluvurself ,felt turbulence !
Varun Dhawan: The scream queen is back and this looks really good just don't watch it #alone
Ajay Devgn: This is something not to be watched Alone. Best of luck @KumarMangat & @Abhishekpathak1 for #Alone
Watch the official trailer here: