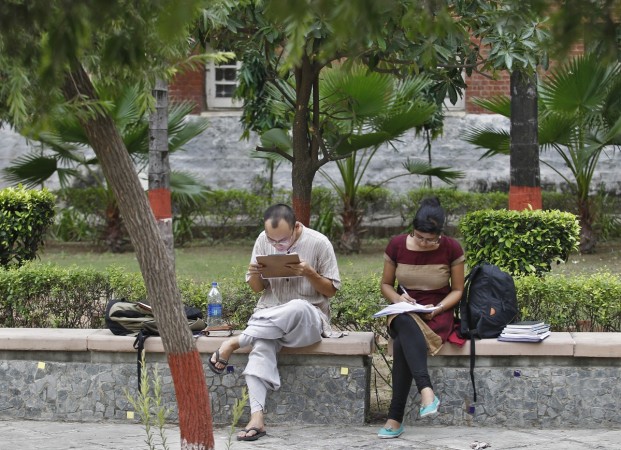 Around half of the first year students at Delhi University's law faculty have failed in at least one subject for the second year in a row, leading to protests.
A total of 882 students out of 1944 students have failed in at least one subject in the semester examination.
Students alleged that evaluation of marks was carried out carelessly as some of them have been marked absent even though they appeared for the exams, while the scores of a few others were revised later.
While student's alleged error on the part of the administration and said that their only recourse was to apply for revaluation, the Faculty of Law Dean, S C Raina maintained that the students' performance has been evaluated accurately.
"The papers have been checked properly and moderation done following proper methods...What can go wrong? What can the faculty do if students don't study and write their exams well," Raina said.
Meanwhile, at least a hundred law faculty aspirants had on Monday protested at Delhi University and the Delhi High Court over the Bar Council of India's (BCI) recommendation to reduce the colleges' seat intake by scrapping evening classes.
The recommendation follows from the 2014 development, where, BCI, the apex regulatory body for legal education and legal profession, had decided to de-recognise DU's law course after it failed to seek timely extension of the affiliation of its three centres - Law Centre I (LC I), Campus Law Centre (CLC) and Law Centre II (LC II). CLC usually admits the highest scorers of the entrance test.
A committee of BCI also submitted an adverse report about the infrastructure and quality of education being imparted at the centres of DU's law faculty.
After DU had proposed to shift to a new building that it claimed "had adequate space", Faculty of Law was granted a provisional extension of affiliation for the 2014-15 session.
But after a fresh inspection by a BCI panel, the council issued a show-cause notice to DU to explain the ''illegalities" in its functioning. The "illegalities" include lack of infrastructure and faculty to meet the needs of more than the permissible student strength. The council had repeated its stand in January this year, claiming such programmes do not ensure proper quality of legal education.