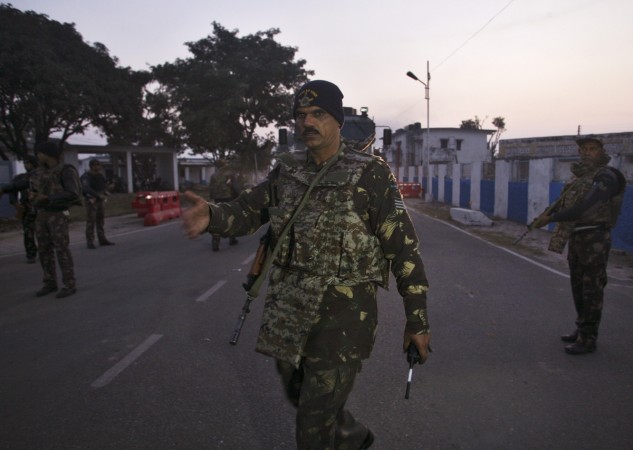 The Punjab Police on Tuesday arrested an alleged agent of Pakistan's Inter-Services Intelligence (ISI) from Pathankot after receiving information from Indian intelligence agencies. He was reportedly working as a labourer at the Army cantonment in the city.
The man has been identified as Irshad Ahmad, an Indian citizen. Several photos of "sensitive installations" were also recovered from his phone, The Hindu reported.
Ahmad was allegedly instructed by ISI to take up a job at Pathankot's Mamoon Army Cantonment, which is one of the most critical and biggest military bases of Indian Army.
He was reportedly asked to send photos of all sensitive installations and equipment at the cantonment to his handler named Sajjad, who was arrested from Jammu recently in connection with an Arms Act case.
"He (Sajjad) will now be questioned on the basis of revelations by Irshad that he was his handler and used to pass on the photographs to his Pakistani handlers through email and secure chat messaging services," an intelligence official said.
"Most often, ISI tends to look for a new target after attacking one, because the level of guard is raised in the place that has been attacked, but this arrest has surprised us," he added.
The arrest was made almost a month after a group of six militants attacked Pathankot's Indian Air Force base. On 2 January, militants opened fire and triggered bombs at the airbase. The stand-off between the militants and Indian security forces lasted three days.
Seven security personnel died in the attack and all the militants were killed in the stand-off. Based on evidence collected from the airbase, India claimed militant outfit Jaish-e-Mohammed was behind the attacks and the militants had come from Pakistan.
Islamabad has set up an investigation team to probe the attack and the claims made by India. Last week, Pakistani Prime Minister Nawaz Sharif said the probe into the deadly attacks in Pathankot was underway and Pakistan would soon make its finding public.