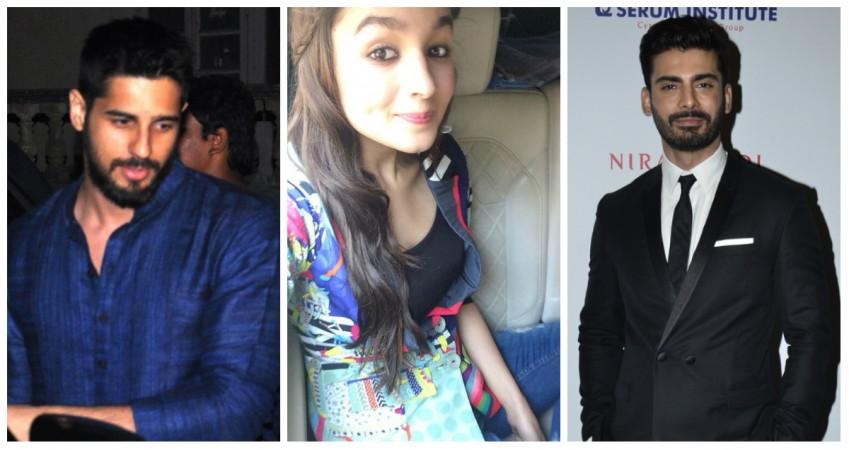 The sound of Alia Bhatt dating Sidharth Malhotra might not be pleasant for the "Highway" actress' ears, but what's more shocking is the news of the alleged couple being cast to play siblings in Shakun Batra's next "Kapoor & Sons", and reportedly Pakistani hottie Fawad Afzal Khan has been roped in to essay the role of the elder brother.
"Rishi plays the grandfather. Sidharth Mahotra, Alia Bhatt and Fawad Khan play Rishi's grandchildren. The very important roles of Rishi's son and daughter-in-law are yet to be cast," DNA quoted a source as saying.
However, since there's been no official confirmation on this piece of intel, it could be counted as a speculation.
Interestingly, the script was reported to be a love triangle in which Sidharth and Alia play the lovebirds, and Fawad forms the triangle. Mumbai Mirror also reported that the rumoured real life couple will reportedly indulge in an intimate scene.
"There's one really intense and intimate love-making scene between them. It goes way beyond the kiss they shared in Student of the Year," a source informed.
But looks like now it's the story about a dysfunctional family, who goes on a trip during which the younger brother reveals truth about his sexuality.
Whatever the story may be, the script for the filmmamker's next wasn't made in a day and took him a great deal of hard work after Karan Johar put it in the back burner.
"Rarely does a filmmaker write a super script in 2 months....@shakunbatra's new family film just got greenlit and cast! Details coming up....," Johar tweeted earlier last month adding, "No official cast announced from @DharmaMovies on @shakunbatra's next film! Please await an official announcement from our end...."
In other news, Sidharth will be next seen in Dharma Productions' "Brothers" alongside Akshay Kumar, and Alia is set to romance Shahid Kapoor in Vikas Bahl's "Shandaar".