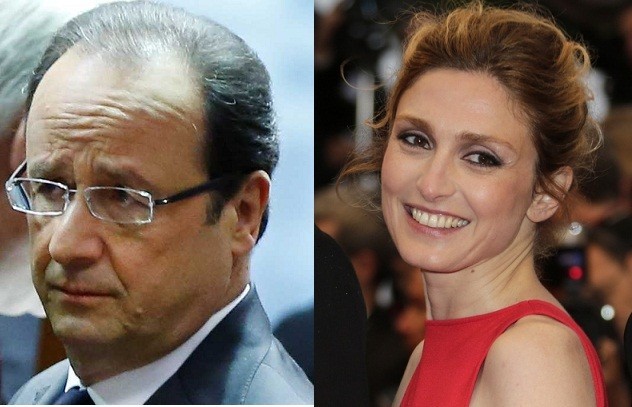 The reports of the alleged secret affair with French President Francois Hollande seems to have cost Julie Gayet her jury berth for the Villa Medici scholarships, the French media reported.
The 41-year-old actress' appointment as jury member was decided in December, however, the French Minister of Culture has now reversed the decision. Villa Medici, the Académie de France in Rome, gives out scholarships for artists, and the role of the jury is to select some 15 people to take up cultural scholarships lasting 12-18 months. The academy, founded in the 17th century, awards scholarships in painting, sculpture and architecture, though in recent years it has been broadened to include literature, film, photography and other cultural areas.
Minister of Culture Aurélie Filippetti, in his statement to French daily La Libre, informed that though her name was on the initial list, it did not get finalised. Without giving any particular reason he stated that the ministry decided to drop her name. "Her name was proposed by Eric de Chassey, director of the Académie de France in Rome, Villa Medici," the minister stated, adding that since the order has not received a final approval, her name was dropped.
Gayet made her acting debut in a 1992 episode of the French TV series Premiers baisers, and also did a minor role in Krzysztof Kieślowski's Three Colors: Blue (1993). But she gained limelight only in 1996, with French comedy Delphine 1, Yvan 0, by Dominique Farrugia.
The actress gained much limelight following the alleged expose by Closer magazine that ran a seven-page "special report" with photographs of president Hollande, 59, crossing Paris on the back of a scooter, to meet Gayet.
Meanwhile, the French President, though not owing up to the alleged affair, said that he was going through some "painful moments" during a press conference on Tuesday. Hollande's life has come to scrutiny following the scandal with Gayet, who is already quite unpopular in France.
Following Closer's report, Hollande's partner and journalist Valerie Trierweiler admitted herself to the hospital to 'wear off the shock'. In a press conference, Hollande also lambasted the magazine saying that his "indignation is total" and the report was "violation that touches a personal liberty."
While the French President has decided not to press charges against the magazine, it is being reported that Gayet may be gearing up for pressing charges for "violation of privacy."