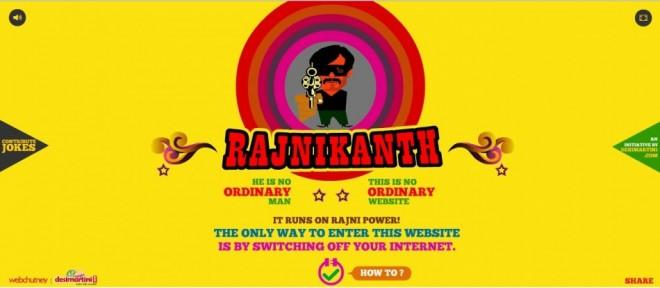 It may sound like a joke about Tamil superstar Rajinikanth; but its real, a website dedicated to the actor runs without the Internet!
Recently, Webchutney, a digital agency, has developed a microsite dedicated to superstar Rajinikanth for the Bollywood site desimartini.com that runs without the Internet.
Visitors to allaboutrajni.com are greeted with an image of the actor holding one pistol and written at the bottom of it 'RAJINIKANTH', HE IS NO ORDINARY MAN. THIS IS NO ORDINARY WEBSITE. IT RUNS ON RAJI POWER! THE ONE WAY TO ENTER THIS WEBSITE IS BY SWITCHING OFF YOUR INTERNET.
While browsing, if a user connects to the Internet, a message pops up, which says, "This was unexpected. To keep browsing, switch off your Internet".
Commenting about the idea, Webchutney's creative director Gurbaksh Singh, who developed the site for Desimartini.com, said that the unbelievable spectacle of running a Web site without the Internet is a tribute to Rajinikanth's larger than life image.
When desimartini.com, a site that specializes in movie reviews and provides content about the latest movie releases wanted to pay tribute to the southern superstar, approached Webchutney to create something special for the superstar on his 61st birthday that reflect Rajini's signature style. The result was the microsite http://www.desimartini.com/allaboutrajni.htm, which showcases facts and excerpts from the superstar's life and films, said a statement by the company.
The site is loaded with inside scoops, controversies, facts and famous jokes, actions sequences of the actor.
The concept of the site is based on a complex algorithm running in the backend that keeps an eye on the propagation of data/information packets between two terminals.