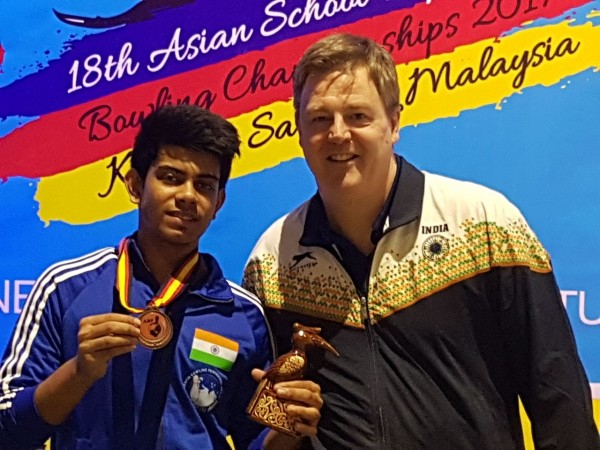 Tenpin Bowling Federation (India) is organising its premier event in the Indian Bowling Calendar - 28th National Tenpin Bowling Championships between February 5 and 10 in Bengaluru.
146 bowlers, including 124 men and 22 women will be competing for honours in this week long Championships.
The Championships will feature the maximum number of participants this year, qualified through state ranking events and trials organised by respective state associations and federations.
NOTE: Tenpin Bowling is one of the 35 sports disciplines included in 18th Asian Games 2018 to be held in Jakarta, Indonesia.

Ministry of Youth Affairs and Sports has identified 3 non-Olympic sports including Tenpin Bowling and extended financial support towards preparations for Asian Games.

In line with the above, performance in the National Championships assumes importance for those bowlers who would like to make it to the list of core probables.
With a view to unearth talent and help overseas-based Indian bowlers, the federation organized trials in Dubai and Kuwait. The federation also organised Centralised Qualifying Trails in Bangalore from 31st January to 2nd February to select 12 bowlers in addition to trials conducted in respective states.
Top bowlers of the country including defending champion and Asian Indoor Games Bronze Medallist Dhruv Sarda of Delhi, Asian Championship silver medallist and Asian Indoor Games bronze medallist Shabbir Dhankot (TN), Commonwealth Medallist S A Hammed (Delhi) and local favourite and Commonwealth bronze medallist Akaash Ashok Kumar (Karnataka) and Asian School Championships bronze medallist Shoumick Datta will be seen in action in the men's category.
In the women's section, defending champion Sumathi Nallabantu (Telangana) will be the favourite, former National Champion Sabeena Athica (Tamil Nadu) will be competing to win her 10th national title.
Former national runner-up Anukriti Bishnoi (Haryana) and state Champion Judy Alban (Karnataka) are among the top contenders.
The total prize fund will be Rs 9 Lakh (20% increase over the previous edition). This is the highest prize fund offered towards the National Championships where the winner in the men's category will take home Rs.1,50,000 and winner of women's category will take home Rs.75,000.
Top players at the tournament
Men
Dhruv Sarda (Delhi) – Defending National champion and Asian Indoor Games Bronze Medallist 2017
Shabbir Dhankot (Tamil Nadu) - Asian Indoor Games Bronze Medallist 2017 and silver medallist at Asian Bowling Championship, 2015
Shoumick Datta (Karnataka) – Asian Schools Championship Bronze Medallist 2017
S A Hammed (Delhi) - Winner of 2 Gold and 1 Silver medals at the first CW 2002 and Winner of ABF Tour, Bangkok leg, 2014
Women
Sumathi Nallabantu (Telangana) – Defending national champion
Sabeena Athica (Tamil Nadu) – National Champion in 2015, 2013, 2012, 2010, 2007, 2006, 2004, 2003 & 2001
Anukriti Bishnoi – Runner-up National Championships 2015
Judy Alban (Karnataka) – Runner Up, NTBC 2013
16-year-old Rajvardhan Bhartia (West Bengal) is the youngest player and 63- year-old Former National Champion H. V. Sarda is the Oldest player of the Championships.
Tournament format (Men's and women's categories)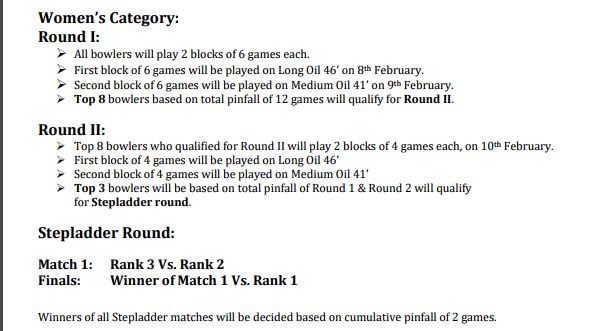 Full schedule of 28th Tenpin Bowling National Championships in Bengaluru.