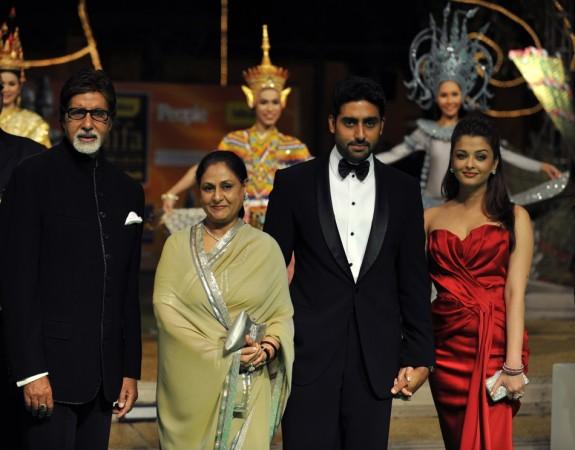 The daily soap invasion, led by Ekta Kapoor's production house, has conditioned the Indian minds to doubt every happy family. And celebrities are nothing, but easy targets in this case.
A few months ago, much was made of the Aishwarya Rai Bachchan-Jaya Bachchan alleged fight. The rumour mills were abuzz with the saas-bahu spat and Abhishek moving out of parents' home with wife and daughter.
However, the family ties are now stronger than ever and differences have apparently been mended. Junior Bachchan says the two talk in Bengali with each other. That's a good way to start afresh, isn't it?
During Junior B's recent visit to Kolkata, he told the Times of India that he understands Bengali in bits but isn't fluent in it. "My nani's biggest regret in life is that I never learnt fluent Bengali. I can understand bits and parts, but my wife speaks better Bengali than me."
Since Aishwarya has done two Bengali films, it is but natural for her to be familiar with the language. "She has done two films with Rituda (Rituparna Ghosh). So, she picked it up while working in Chokher Bali and Raincoat."
The two, quipped Abhishek, talk in Bengali when they have a secret to share. "Sometimes, she converses with mom in Bengali when they don't want the boys to understand what's going on."
The actor also expressed his disappointment over the media reports on wife's post-delivery weight gain. He said it was "incorrect" to critique someone's bodily features and was "in very bad taste."
Abhishek's upcoming release is Farah Khan's "Happy New Year." The film stars Shah Rukh Khan and Deepika Padukone in lead roles. He is currently working with Umesh Shukla in "All Is Well", which will feature Rishi Kapoor, Smriti Irani and Asin as well.