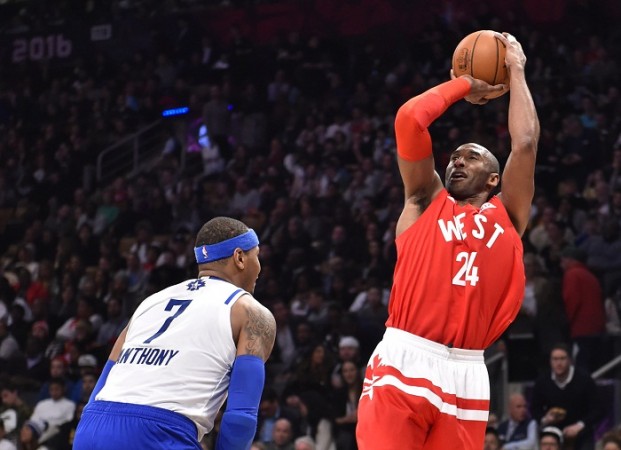 The NBA-All Star game at the Air Canada Centre in Toronto, as expected, was fun all through, with players coming up with amazing skills and shots to entertain all and sundry. It was an incredible, high-scoring game, which saw the the West defeat the East 196-173.
Despite a number of top class players' participation in the game, the spotlight was firmly on Kobe Bryant, who was playing his 18th and final All-Star game, as he is set to retire at the end of the season. The Lakers superstar went head-to-head with Lebron James, which made matters even more interesting, but Kobe lacked pace to match with James despite several chants of 'Kobe, Kobe, Kobe' from the fans in Toronto.
With Bryant troubled with injuries of late, he was not expected to play for long, but the star player ended up playing 26 minutes. In those 26 minutes, Bryant put up 10 points and seven assists.
The player of the game, though, was Oklahoma City Thunder's Russell Westbrook, whose all-round game on the defensive as well the offensive end helped him win back-to-back NBA All-Star MVP awards. Westbrook also became the first player to win the MVP award in consecutive years since Bob Petit in 1958. Westbrook was in amazing form, as he finished the game with 31 points, 8 rebounds, 5 assists and 5 steals.
Indiana Pacers' Paul George, who represented the Eastern conference, finished as the highest-scoring player of the game, with 41 points.
The game, right from the start, produced some brilliant moments with Stephen Curry and Westbrook drilling those shots from beyond the arc. Curry finished with 26 points.
The West were dominant in their approach, with players such as James Hadren, Curry and Westbrook leading the way.
However, James and Dwyane Wade, who once formed an incredible pair for the Miami Heat, showed that they still have a great understanding between them, as the duo linked up brilliantly, with a few alley-oop dunks also coming along.
The All-Star game was high on the entertainment factor and these players, who are picked by fans and coaches, lived up to the expectations in all the four quarters. The first quarter was the closest with East leading 43-40, after which the West came back and took a lead of 92-90 at halftime.
In the third and fourth quarter, the West never allowed their opponents back. The West, who had increased their lead to 145-136 in the third, blew away the East in the fourth quarter, scoring 51 points to East's 37.
Irrespective of how the game finished, the game shall be remembered as Kobe's final appearance in the All-Star game.
To wrap it up, the match was one of the most entertaining All-Star games in recent times with 369 points scored in one game including 139 three-point attempts.