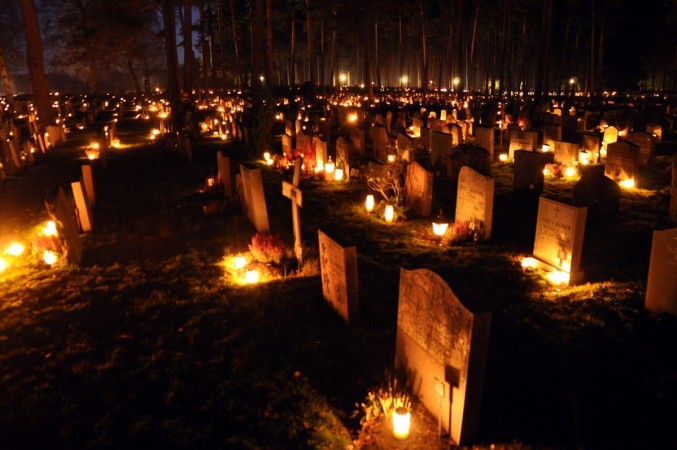 All Souls' Day, observed annually on 2 November, is a day dedicated to offering prayers and giving alms to the dead. It is said that the intention of the day is to assist those in purgatory – an intermediate state after physical death in which those destined to go to heaven undergo purification, according to Catholic Church doctrine.
All Souls' Day comes a day after the observance of All Saints Day, which is celebrated on 1 November. But there are some differences between the two:
"All Saints Day is a celebration, but All Souls Day, which follows on Nov 2nd, is usually a more solemn occasion," the Director of Council of Christians and Jews in Britain writes for ITV.
"It's an opportunity to remember together those who have died more recently, especially those who have loved and miss. Some churches hold special services with music and prayers, in which names of those who have died are read out, and candles are lit in commemoration."
For those who are unfamiliar with the day, here are some basic facts about the day including its history, origin and significance. There is a special focus on the idea of 'Purgatory':
The modern date of All Souls' Day was first popularised in the early eleventh century when Abbot Odilo, the abbot of Cluny in France proposed that the day after All Saints' Day be set aside to honour the departed, particularly those whose souls were still in purgatory (that is between heaven and hell, paying for their sins before entering heaven).
The custom then gradually spread to other Benedictine monasteries and thereafter to the western church in general.
The idea of 'Purgatory' was central during the medieval times. Those were the times when church-goers believed ringing bells for the dead would comfort them during their cleansing, and lighting candles were symbolic in giving lights to those souls who were lingering in darkness.
There have been traditions reported from 19th and 20th centuries where children would go 'souling' or acting as though they were souls, singing carols and asking for alms or 'soul cakes'.
A superstition, believed by many, claims that during the night of All Souls', the dead revisit their homes. Therefore some people would leave a lit candle outside their homes to guide them and help them find their way. Meals and wine were also sometimes left outside for the souls to feed upon.
Although the Church of England rejected the doctrine of purgatory and abolished the All Souls' Day, it was reportedly revived in the 19th century among Anglicans as the influence of Anglo-Catholic movement grew.