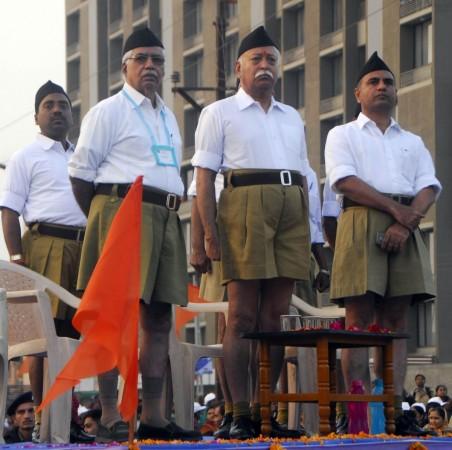 RSS chief Mohan Bhagwat tried to project an image of India that was unified on the virtue of its nationality alone, when he said that all Hindustanis who live here and respect its traditions are Hindus, including Muslims. He said on Wednesday that though Muslims have a different way of performing prayers, they are Hindus by nationality.
Also read: RSS chief Mohan Bhagwat says genuine 'gau rakshaks' should be separated from those that hurt cows
"Whoever lives in Hindustan and has respect for its traditions, are all Hindus. Muslims may have different way of performing prayers, but their nationality is Hindu. All Hindus are accountable for Hindustan," Bhagwat said while addressing a 'Hindu Sammelan' in Madhya Pradesh.
He also said that caste, sub-caste, rituals and languages maybe different but the "language of our hearts is one." "Diversity in life is beautiful, but it should also have unity," he said, echoing India's long-standing unity in diversity mantra.
He asserted that Indian society is known as Hindu across the world. "All Bharatiya (Indians) are Hindus and we all are one entity," he said, in what can only be seen as a leader from a majority belief prevalent in the country imposing his ideas of India on others.
"Across the globe it has been said that Bharat will become the world guru. In such a situation we are accountable for the country. It is necessary for Hindus to remain united and bury their differences," he added.
Apart from urging for unity, he also urged people to conserve nature and make the country proud of their actions.
He said that if differences among Hindus (referring to Indians and not just those who believe in the religion of Hinduism) persist then society will suffer instead of being strong.
"The outside world is uniting, but it is not happening here in the country," Bhagwat remarked. He also urged people to embrace all sections of the society since it enhances the beauty of the society.
This is not the first time the RSS has said that all Indians are Hindus. In 2015, RSS' senior leader Dattatreya Hosabale said there are no minorities in India where all people are "culturally, nationally and DNA-wise Hindus."
"Whom do you call minorities? We don't consider anybody to be a minority. There should be no minority concept in the country because there is no minority. Mohan Bhagwatji (RSS chief) has said it 20 times that all those born in India are Hindus. Whether they accept it or not, they are culturally, nationally and DNA-wise the same," Hosabale told reporters.