Remember that particular movie scene from Erich Segal's Love Story when Jenny Cavalleri and Oliver Barrett tumble and fall over each other on ice with nothing but love in their eyes? The spectators at PyeongChang revisited the scene right in front of their eyes this week.
German figure skating pair Aliona Savchenko and Bruno Massot gave the crowd at the Winter Olympics 2018 a wonderful display of their coordination and they rightfully took home the gold medal at the pair skating event.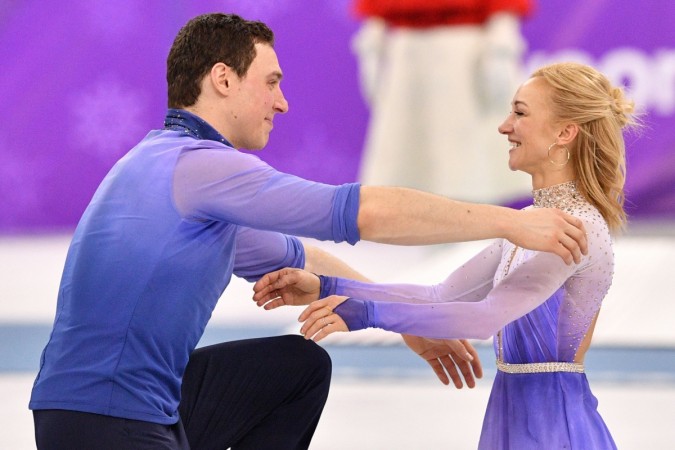 Aliona, 34, tumbled and fell on the ground immediately after her performance, pulling Bruno down as well. The moment made millions watching go absolutely ga-ga.
The couple, who have earned the praise of a plethora of young lovebirds across the world, teamed up in 2014. Plenty of medals soon started pouring in.
Aliona and Bruno first won the silver at the 2016 European Championships in Bratislava, Slovakia. Their next best achievement was the bronze medal at the 2016 World Championships in Boston.

The pair won a silver next at the 2017 European Championships in Ostrava, Czech Republic.

Again, a silver medal came at the 2017 World Championships in Helsinki, Finland.

Aliona, who had two bronze medals from two respective Winter Olympics, never really came close to achieving that golden dream. But then, Bruno Massot happened.
In PyeongChang 2018, the duo danced to danced to Caro Emerald's "That Man" in their short program but that remained a bit disappointing.
However, their comeback in the free skate performance to the emotional song "La Terre vue du ciel," performed by Armand Amar, remained the best-ever performance of the day.
The unbelievable synchronisation and chemistry made Aliona and Bruno create a new world record.
It's been a fairytale story for the couple...but it's not a real-life love story.
Bruno, who represented France, but got a Germany citizenship just to team up with Aliona, is currently in a steady relationship with his girlfriend Sophie Levaufre.

As for Aliona, who was born in Ukraine, is already married to long-time boyfriend Liam Cross. The couple tied the nuptial knot in Germany in 2016.