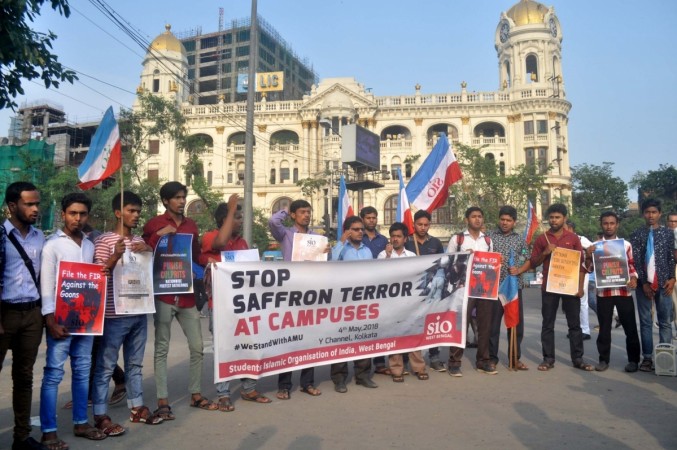 Fourteen students of Aligarh Muslim University have been booked for sedition after they entered into a scuffle with the crew members of Republic TV news channel on the varsity campus. The students, according to the police, also raised "Pakistan Zindabad " slogans.
The police were earlier called by the AMU administration after they alleged that the Republic TV crew entered the campus without prior permission to shoot an event in the varsity.
However, when the students and the faculty members opposed the reporter, she allegedly called them terrorists to elicit a reaction on camera.
Students at Aligarh Muslim University are saying that a team from @Republic TV just visited campus, and reportedly physically & verbally harassed students – saying "We're standing in a university of terrorists" – to provoke an on-camera reaction.

— Raghu Karnad (@rkarnad) February 12, 2019
The police officials said that members of BJP's Yuva Morcha also entered the campus and clashed with the students.
Aligarh SP (city)i: Union in Aligarh Muslim University wanted to organise an event where Muslim political organisations will come on one stage. Their rival group opposed this, stating that if a known figure, who happens to be an MP & holds other posts, comes they will protest. pic.twitter.com/3ZIPRqOaEI — ANI UP (@ANINewsUP) February 12, 2019
BJP Yuva Morcha's district leader Mukesh Singh told scroll.in that the police registered FIRs against the students after they lodged a complaint.
Meanwhile, the TV reporter of Republic channel, Nalini Sharma, has clarified on social media that she did not call the students terrorists and that they have videos of the incident. She said that the students physically assaulted her and her colleagues and formed a human chain around them so that they don't escape.
She alleged that their equipment and camera were also broken by the students and the police officials outside the campus were of no help since they said they have no authority within the campus.
This is ABSOLUTE LIES! I'm appalled at how this has been created out of thin air. I was MYSELF standing and reporting on a story that had NOTHING to do with AMU when the students began to heckle and threaten us. We weren't even speaking to any student in the vicinity! https://t.co/jHuupm9nNK

— Nalini (@nalinisharma_) February 12, 2019
Meanwhile, the students at AMU have urged the authorities to drop the sedition charges against the students.
One of the Student from AMU was beaten badly by Sanghi goons outside the campus, currently admitted in hospital. This is what @nalinisharma_ & @republic has achieved after creating riot there with the help of lie & intimidation. pic.twitter.com/SbUOjo9N1b — Shamshir (@shamshir_gaya) February 12, 2019
Today's drama worked perfectly as scripted by fascist forces and paid media - 14 Aligarh Muslim University students booked for sedition after fracas with Republic TV crew https://t.co/bwSlWYg5F7

— AMU Network (@AMUNetwork) February 13, 2019
For TRP & driving it's political agenda Republic TV doesn't mind ruining lives of young students, be it JNU or AMU. AMU students are facing the sedition charges, after the fracas with the RepublicTV crew which entered the AMU without prior permission. https://t.co/NUwfyeESck — Nirjhari Sinha (@NirjhariSinha) February 13, 2019