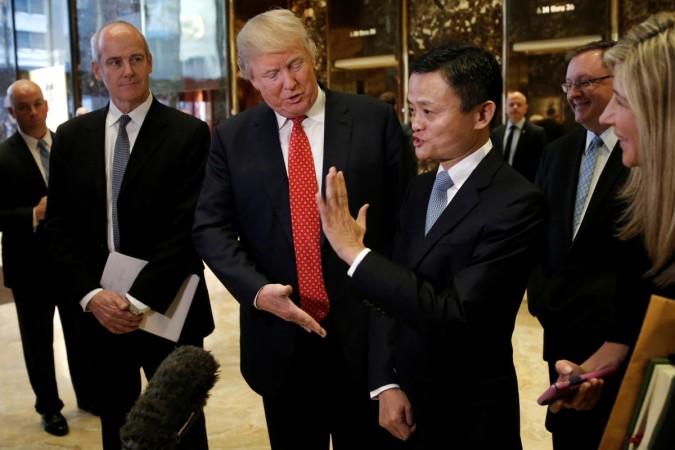 Alibaba founder Jack Ma paid the US in its own coin and asked not to blame other countries for stealing US jobs when the country has spent almost $13 trillion on warfare over the past 30 years instead of working on social welfare programs.
Alibaba blacklisted in US for selling counterfeits; takes jab at Donald Trump
In an interview with CNBC at the ongoing World Economic Forum in Davos, Ma said the US has no one but itself to blame for its economic woes and much of the problem is rooted in wasteful spending on warfare.
"It's not that other countries steal jobs from you guys. It's your strategy. Distribute the money and things in a proper way," Ma said, adding, "You're supposed to spend money on your own people."
Donald Trump, who is set be sworn in as the new US president on Friday, has consistently accused China, India and other developing countries of siphoning US jobs and has vowed to bring back jobs to the country.
Ma stressed that globalization is a "wonderful" and "perfect" strategy, but said it "should be inclusive."
"The American multinational companies made millions and millions of dollars from globalization. The past 30 years, IBM, Cisco, Microsoft, they've made tens of millions — the profits they've made are much more than the four Chinese banks put together...But where did the money go?"
He said US citizens feel wracked with economic anxiety because the country is not distributing or investing its money properly.
"The world needs new leadership, but the new leadership is about working together. As a business person, I want the world to share the prosperity together," Ma said.
Meanwhile, Alibaba, which surpassed Wal-Mart as the world's largest retailer in 2016 as measured by gross merchandise volume (GMV), said on Thursday that it signed a 12-year agreement with the organizers of the Olympics to provide cloud and e-commerce services to the games.
The two organizations will also create an e-commerce platform to sell Olympic-branded goods.