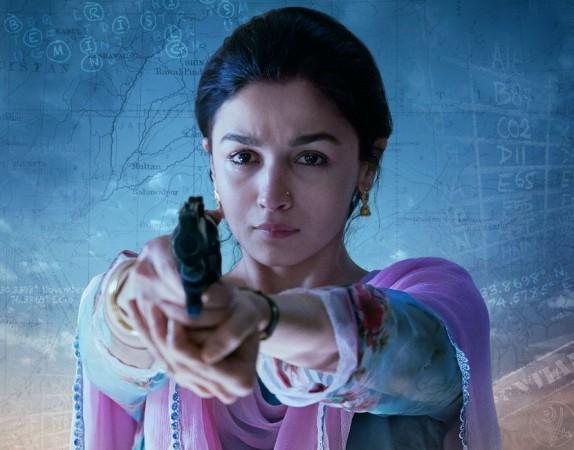 RATING: 4/5
MOVIE: Raazi
CAST: Alia Bhatt, Vicky Kaushal, Rajit Kapur, Shishir Sharma, Jaideep Ahlawat.
DIRECTOR: Meghna Gulzar
Genre: Spy thriller
There are many who sacrificed their lives for the nation and their stories of valour get inscribed in the history books with golden words but there are also many who have not got an iota of recognition. Raazi is a real-life story of one such brave heart, narrated in an extremely intriguing way.
STORYLINE
Set in the backdrop of Indo-Pakistan war of 1971, Raazi is a story of an Indian girl, who married a Pakistani Army officer to spy on the enemy country.
Sehmat Khan (Alia Bhatt) is the daughter of an Indian, Hidayat Khan (Rajit Kapur), who works as a spy for India. He provides confidential information on Pakistani forces to India's Intelligence Bureau. Taking forward his legacy, Hidayat gets Sehmat married to Pakistani Brigadier Syed's (Shishir Sharma) youngest son Iqbal Syed (Vicky Kaushal), with the sole intention of making her a spy in the neighbouring nation.
Though Sehmat is a young college student and untrained for the work, she agrees to take it up for the love of nation. Eventually, she gets all the required training from a core member of the Indian intelligence bureau, enacted by Jaideep Ahlawat. Sehmat then sets off on a dangerous mission with an innocent and smiling face.
Being in the house of one of the top officials of the Pakistani Army, Sehmat gets access to multiple confidential documents, the content of which she keeps forwarding to the Indian intelligence. Whether Sehmat will get exposed or not forms the crux of the story.
PERFORMANCES
Alia Bhatt had first proved her acting prowess in the film Highway, and since then there has been no looking back for the young talent. Her performance is Raazi yet again shows why she is considered as one of the most talented actresses of the current generation.
Every emotion – love, patriotism, fear, guilt – Alia nails it. The audience will be taken aback by Alia's performance in Raazi.
Vicky as her husband played it perfectly as gentle husband and a patriotic soldier. The audience were moved by his acting, especially when he gets to know who his beloved wife was.
Jaideep, Shirish and Rajit among others added value to the seat edge thriller.
POSITIVES
Raazi is an out-and-out thriller. The movie also has a good dose of emotion, love and moments of patriotism that make it a must watch.
There are hardly any dull moments in the film, and the story goes on a good pace. Performances and the gripping storyline are the USP. The cinematography is impressive as well. The scenic beauty of Jammu and Kashmir is aesthetically shot.
NEGATIVES
It's rare to find a Bollywood film sans loopholes, but Raazi is an exception. Trust me, you can't find anything in it that you would say isn't good.
VERDICT
Raazi is an emotional rollercoaster. It's an edge-of-the-seat thriller that deserved to be made, and now it deserves to be watched. Alia Bhatt completely shines in the movie.
Take a bow Meghna Gulzar.