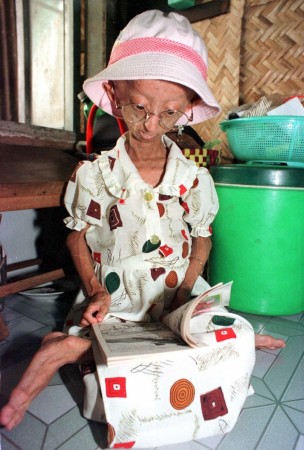 Revisiting Brad Pitt's "The Curious Case of Benjamin Button" and Amitabh Bachchan's "Paa" is what evokes when one meets Ali Hussian Khan, who looks like an old man despite his young age, as he suffers from a rare genetic disease called Progeria.
For Ali, a resident of Bihar, life was much tougher than the kids of his age. He and his five other siblings suffer from age-defying disease, which causes human body to age eight times faster, making the patient look way older.
The rare genetic disease affects one in over eight million births and restricts the life expectancy of the affected to teenage years or till early twenties.
The case of Ali is no different, at the age of 14, he looks like a 114-year-old with sparse hair, bulging eyes, recessed jaw and pinched nose.
Ali's five other siblings, Rehana, Iqramul, Gudiya, Rubina and one brother have been claimed by the killer disease, which at present has no cure as such.
Braving the odds, the brave teenager, who is only 3feet 7inch tall, told the Sunday People, "I very much want to live and I hope there is medicine for my disease out there. I'm not scared of death but my parents have suffered a lot. I'd love to live much longer for them. I don't want to burden them with any more pain."
Ali's parents Nabi Hussain Khan and Raiza had eight children out of which six were infected with the killer disease. Since Nabi and Razia are first cousins, it is believed that the genetic illness might have been sprung from it.
The grieving father said, "The doctors were as clueless as us. If one of them had told us our children had some kind of genetic problem and we were connected we'd have stopped having children."
The couple has two healthy daughters, Sanjeeda (20) and 10-year-old Chanda.
Meanwhile, Ali who has been bullied and forced to give up schooling, laments, "I would love to be a normal person who can play, go to school, do some sports, take some risks. Sometimes I get depressed but most of the time I make the most of the life I have."
'It's very lonely living this life, especially since my siblings have gone,' he added. I don't know if there's anyone else like me. I'd like to be in the company of other people like me again," added the crippled teen.
Presently, Ali's is under the care of Dr Shekhar Chattopadhay and his medical expenses are being covered by Kolkata-based SB Devi Charity. According to Dr Chattopadhay, Ali's is a unique case as five siblings were affected by the genetic disorder which itself is a rare phenomenon.
At present there are only 80 recorded cases of the disease in the world. South African hip-hop artist Leon Botha, who passed away in 2010, and English girl Haley Oakines are some well known cases of the incurable disease.