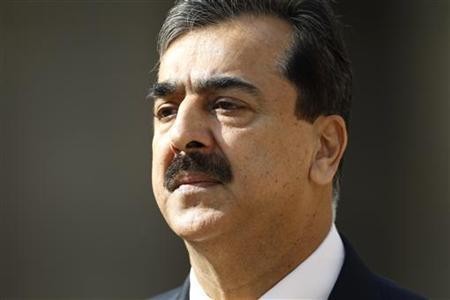 The Pakistani election campaign faced a major debacle when former Prime Minister Yousuf Raza Gilani's son Ali Haider Gilani was abducted on the last day of the campaign from central city of Multan on Thursday.
Reports are flowing in that the young Gilani had received prior threats to his life from terrorist groups such as Lashkar-e-Jhangvi (LeJ) and Sipah-e-Sahaba.
However, no groups have come forward claiming responsibility for the kidnapping of the young political scion.
"I do not want to comment (on the incident). We do not know as to who has kidnapped him, and why and how he was kidnapped," Ihsanullah Ihsan, spokesman of the banned Tehrik-e-Taliban group, told PTI.
A day after the high profile abduction, Pakistani police are still clueless about the identity of Ali Haider's kidnapers. No major leads have surfaced in the case yet.
The police lamely stated probable motives of revenge, ransom by the Taliban behind the abduction.
Ali Haider, a Pakistan People's Party (PPP) electoral candidate from PP-200 constituency, was taken hostage after addressing a campaign in Farruk Town on Thursday afternoon.
The assailants arrived in an unregistered car and motorbikes at the spot and opened fire at Gilani and his men. Gilani's aides, secretary Mohaiuddin and security guard were shot, and Gilani was dragged into the car and driven away.
An enraged Ali Musa Gilani, Haider's brother, told Lahore-based daily The Nation, "If my brother is not recovered till tonight, there will be no election in NA-148, 151 and PP-200."
Former PM Gilani condemning the act told journalists, "Kidnapping of my son, a PPP's candidate for PP-200, following killing of his secretary in a firing attack, is a horrific incident," and assured, "The election is a national obligation and we will not boycott."
"I urge all of my party supporters to remain peaceful and participate in the vote."
While unconfirmed reports surfaced that one of the kidnappers was captured and provided vital information, no official reports have been released.
Pakistan's first democratic elections seems to have been marred by unfortunate events as only days ago, Imran Khan, leader of Pakistan Tehreek-e-Insaf party was gravely injured after he fell off a lifter during campaigning.