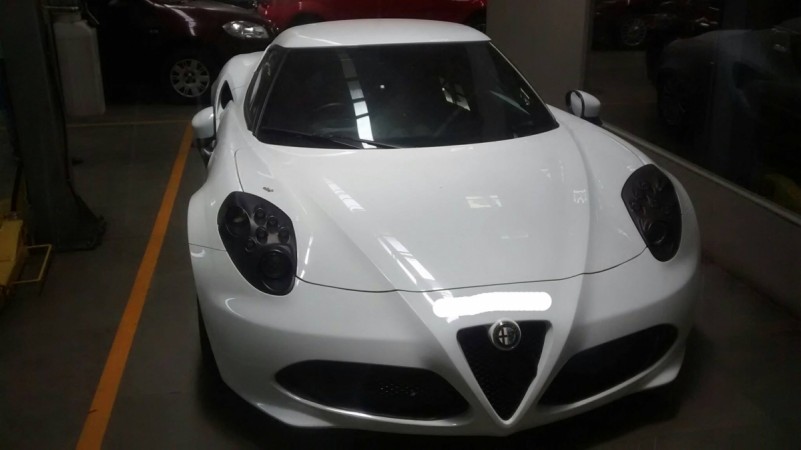 While Fiat Chrysler Automobiles (FCA) India is gearing up for the launch of Jeep Compass SUV, a look at its dealership service centre in Mumbai shows there are more FCA cars already in India.
Also read: 2017 Jeep Compass: Why is the compact SUV a litmus test for FCA?
Ajinkya Zore, a Punto hatchback owner, recently visited Landmark Fiat in Mumbai for regular service. In addition to the Fiat models, there was also a white Alfa Romeo 4C and a Fiat Abarth 595 Competizione. For the uninitiated, FCA had launched Fiat Abarth 595 Competizione in 2015. Meanwhile, Alfa Romeo 4C is not part of the India portfolio.
Alfa Romeo is an Italian brand under FCA and the 4C is a mid-engined, lightweight, rear-wheel-drive sports car. The production version of the 4C was unveiled at the 2013 Geneva Motor Show.
The 4C is powered by a new all-aluminium inline 4 cylinder turbocharged 1.75-litre engine that develops 241 bhp at 6,000 rpm and 350 Nm of torque at 2,100 rpm mated to six-speed Alfa TCT dual dry clutch transmission. The sports car's top speed is quoted to be 258kmph and it needs 4.5 seconds to reach 100 kmph from a stationary position. The car also uses a carbon fibre tub, front and rear crash box, and hybrid rear frame mainly of aluminium to keep its kerb weight at 895 kg.
Is it India bound? FCA India has not mentioned any plans of bringing Alfa Romeo brand here in the past. Hence it is safe to assume that the launch of the Turin-based brand is not on the radar of FCA India. The model may have entered India for benchmarking purpose.
The next big launch from FCA, the Jeep Compass is expected to enter the India market sometime in August. Jeep India has already started accepting bookings and the initial reports claim that there has been an impressive response. The first Made in India SUV of FCA is expected to cost around Rs 15 lakh, ex-showroom.