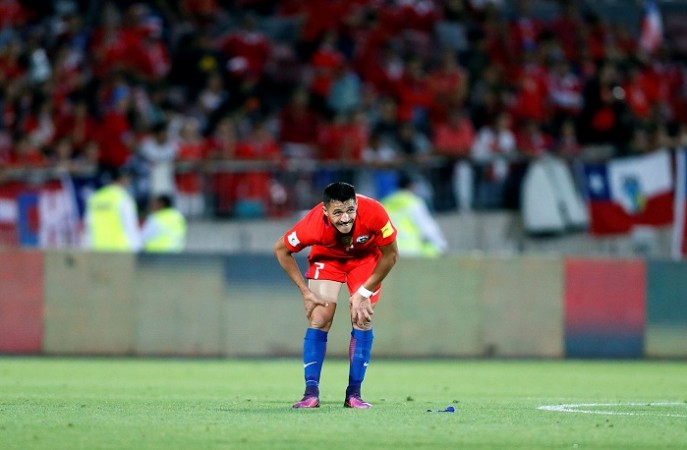 While Chile fans delighted at Alexis Sanchez's brilliance in a 3-1 FIFA World Cup qualifying victory over Uruguay on Tuesday, Arsenal fans around the world would have looked at their main man playing with his right leg heavily taped and feared the worst. Too many times, Arsenal's season has been derailed by long-term injuries to key players, so to watch Sanchez play, despite carrying a hamstring injury would have been worrisome.
Arsene Wenger said it would be suicidal to play Sanchez, after the forward was not risked for the 0-0 draw against Colombia last week, but the Arsenal striker played against Uruguay, scoring two goals, including the winner, to give his country a much-needed win.
"I believe that with a hamstring injury we have to get access for our medical staff to the MRI scan to see what grade it is, how bad it is and make absolutely sure they don't make any suicidal decision that could harm his future for two or three months," Wenger told Bein Sports last week after hearing about Sanchez's injury.
While Sanchez did not look too bothered by the heavy taping, questions were being asked on whether the 27-year-old would be fit for the Premier League game against Manchester United at Old Trafford on Saturday.
The player himself spoke after the match to allay any fears over his fitness.
"I travel to London today," Sanchez told Latercera on Wednesday. "I will train Friday and travel the same Friday to Manchester to play Saturday at noon.
"There is no problem with me playing."
Those are welcome words if you are an Arsenal fan, but most who know the player will also know Sanchez is not someone to reveal too much if he is carrying the after effects of an injury, such is his enthusiasm to play every game.
How fit Sanchez is will only be known once he lands in London and the Arsenal physios asses him.