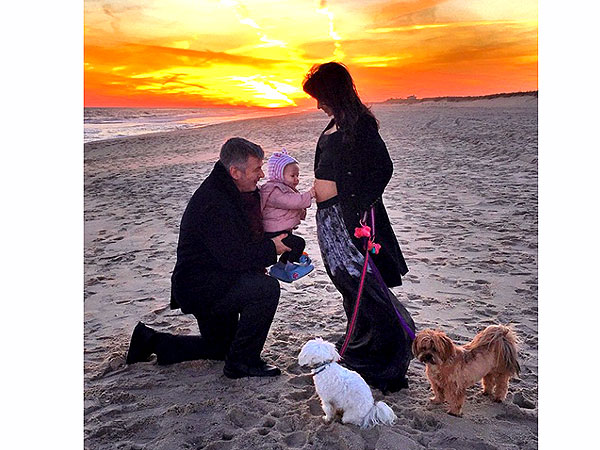 Making the first celebrity pregnancy announcement of the year, Hilaria Baldwin announced on Instagram on Thursday that she and her husband are expecting their second child together.
The 30-year-old Yoga instructor uploaded a picture, which shows her with actor husband Alec Baldwin, 56, and their little gir and captioned it as: "The sun has set on 2014. 2015 is going to be very exciting as we are thrilled to announce we are expecting another little addition to our family! (tadasana) #yogapostureoftheday."
Alec took to Twitter to share the news. He tweeted, "2015 equals Mommy, Daddy, Carmen and a special guest star....," adding a link to Hilaria's Instagram picture.
In the picture, we see the family on a beach, during sunset. While Hilaria stands baring her belly, Alec, holding his daughter, kneels, while Carmen touches her mother's tiny baby bump.
Hilaria frequently shares pictures of her practising Yoga and with 17-month-old Carmen. Alec and Hilaria married in June 2012 and welcomed their first child together on 23 August 2013.
"I knew I was going to love her a lot, but it's incredible how deeply," Hilaria told PEOPLE in 2013.
This will be Hilaria's second child and Alec's third. The Oscar-nominee actor already has a 19-year-old daughter named Ireland Baldwin with ex-wife Kim Basinger.
Alec and Kim met in 1990 on the sets of 'The Marrying Man' in which the two played lovers. They fell in love and married in 1993. In 12 January 2001, Kim filed for divorce that was finalised in 2002.
In 2008, Balwin along with Mark Tubb published a book – 'A promise to Ourselves: A Journey Through Fatherhood and Divorce'. It is supposed to be based on Alec's personal struggle to remain a part of his daughter's life, post his divorce with Kim.
He began dating his present wife – then Hilaria Thomas – around August 2011. She was a Yoga instructer with Yoga Vida in Manhattan.