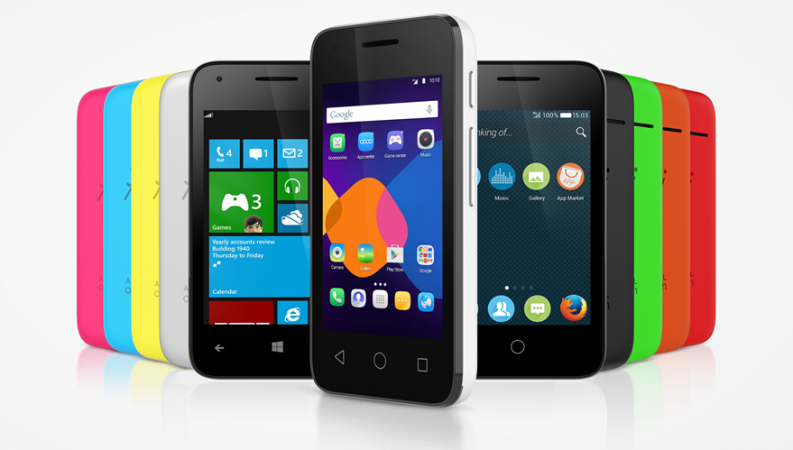 Last week we reported that Alcatel might launch a few OS-Agonist smartphone under their OneTouch series. It was also being said that the new OneTouch Pixi series of smartphones might be capable of running multiple operating systems under the hood.
Refuting these rumours, Alcatel has asserted that the OneTouch Pixi series of smartphones won't be able to switch between operating system but the carrier partners will offer the phones with a choice of operating system between Android, Windows and Firefox.
The low cost Pixi smartphones come with a choice of different screen sizes from 3.5-inches to 5-inches. The Pixi 3 line up of smartphone consists of three smartphones and differs in price, screen resolution and hardware specifications.
Offering both 3G and 4G LTE connectivity, the Pixi 3 comes in four different screen sizes, 3.5-inch, 4-inch, 4.5-inch and 5-inches. The 3.5-inch model offers a screen resolution of 320x480 while the 4-inch model comes in at 800x480 and the 4.5-inch and 5-inch models offer the same resolution of 854x400.
Alcatel has kept the hardware specifications quite basic keeping in tune with the low price tag.
Users can add a personal flare to their device with a large choice of 9 trendy colours: Volcano Black, White, Amber Orange, Tango Red, Neon Pink, Laser Yellow, Vivid Green, Sharp Blue and Metallic Silver. Pre-loaded with the most popular apps like Facebook, WhatsApp, Viber and graphic filters and photo editors, the Pixi 3 family ensures endless fun for everyone.
The devices also permit its principal user to enable Guest Mode, which protects user privacy in certain applications, photos and videos.
Technical specifications - PIXI 3 (3.5-inch)
DIMENSIONS
112.2 x 62 x 11.9mm
DISPLAY
3.5-inch HVGA (320x480), TFT 262K color displayCapacitive touch screen with gesture
OS
Android KitKat 4.4
CPU
Dual Core 1.0GHz
CONNECTIVITY
Wi-Fi 802.11 b/g/n, Wi-Fi Direct, Wi-Fi tetheringBluetooth (v4.0) with A2DPHSPA+ (HSDPA/HSUPA), DL 21Mbps/ UL 5.76MbpsMicro USB 2.0 high speed

GPS optional

CAMERAS
2 MP camera / 2 & 5 Mpxl photosFront camera VGA & 1.3Mpxl photos opt.Flash optional / FiltersVideo codecs: H.263, MPEG4, H.264, AAC

Video capture: 480P @15fps / Video playback: 480P @15fps

MEMORY
Internal memory: 4GB ROM / 512MB DDR3 RAMEnd user: 1.9GBMicroSD up to 32GB
BATTERY
3G LATAM: 1150mAh, Li-ion, 4.2V, Hard packStandby time: 381 hrs(2G); 286 hrs(3G)Talk time: 6 hrs(2G); 5.7 hrs(3G)Music player: 35 hrs / Charging time: 3 hrs

3G EMEA: 1300mAh, Li-ion, 4.2V, Hard pack

Standby time: 432 hrs(2G); 325 hrs(3G)

Talk time: 7 hrs(2G); 6.5 hrs(3G)

Music player: 40 hrs / Charging time: 3.4 hrs

CHIPSET
MT6572M
OTHERS
G-sensor, Dual SIM (optional), Handsfree, FM Radio, Smart Torch, 1 finger zoom, Pre-embedded apps, Mini apps
Technical specifications - PIXI 3 (4-inch)
DIMENSIONS
121.6 x 64.4 x 11.6mm (3G)121.3 x 64.2 x 11.6mm (4G)
DISPLAY
4-inch WVGA (800x480), TFT 16.7M (3G) 16M (4G) color displayCapacitive 2 points touch screen with gesture
OS
Android KitKat 4.4 (3G)Android Kitkat for LATAM and L for EMEA (4G)
BANDS
Mini Sim (3G), Micro SIM (4G), EAP SIMGSM Quadband (850/ 900/ 1800/ 1900)UMTS Dualband (900/2100) à EMEAUMTS Dualband (850/ 1900) à LATAM

UMTS Triband (850/900/2100) à LATAM

UMTS Triband (850/ 1900/ 2100) à LATAM

LTE B1/3/7/8/20 (EMEA); B1/2/4/7/28 (LATAM) (4G)

CPU
Dual Core 1.0GHz (3G)Quad core, 1.1GHz (4G)
CONNECTIVITY
Wi-Fi 802.11 b/g/n, Wi-Fi Direct, Wi-Fi tetheringBluetooth (v4.0) with A2DPHSPA+ (HSDPA/HSUPA), DL 21Mbps/ UL 5.76Mbps (3G) //// LTE DL 150Mbps, UL 50Mbps (4G)Micro USB 2.0 high speed

GPS

CAMERAS
2 & 5 MP camera / 3, 5 & 8 MP photosFront camera VGA & 1.3Mpxl photos opt.Flash / Filters / HDR (3G) / PanoramaVideo codecs: H.263, MPEG4, H.264, AAC (3G)

// (H.263, H.264, H.265, AVC, MPEG-4 SP, VP8, VP9) (4G)

Video capture: 720P @30fps / Video playback: 720P @30fps (3G)

Video capture: 720P @30fps / Video playback: 1080p @30fps (4G)

MEMORY
Internal memory: 4GB ROM / 512MB RAMEnd user: 1.8GB (3G) // 2GB (4G)MicroSD up to 32GB
BATTERY
3G LATAM:1300mAh, Li-ion, 4.2V, Hard packStandby time: 433 hrs(2G); 325 hrs(3G)Talk time: 7.8 hrs(2G); 7.2 hrs(3G)

Charging time: 3.3 hrs

3G EMEA:

1400mAh, Li-ion, 4.2V, Hard pack

Standby time: 466 hrs(2G); 350 hrs(3G)

Talk time: 8.3 hrs(2G); 7.8 hrs(3G)

Charging time: 3.5 hrs

4G: 1650mAh

CHIPSET
MT6572M (3G)MSM8909 (4G)
OTHERS
G-sensor, Dual SIM (optional), Handsfree, FM Radio, Smart Torch, 1 finger zoom, Pre-embedded apps, QR code in camera, Mini apps, Download booster (4G)
Technical specifications - PIXI 3 (4.5-inch)
DIMENSIONS
132.2 x 65.1 x 11.7mm (3G)132.2 x 65.1 x 9.95mm (4G)
DISPLAY
4.5-inch FWVGA (854x480), TFT 16M color displayCapacitive 2 points touch screen on-cell
OS
Android KitKat 4.4
BANDS
Mini Sim (3G), Micro SIM (4G), EAP SIMGSM Quadband (850/ 900/ 1800/ 1900)UMTS Dualband (900/2100) à EMEAUMTS Triband (850/900/2100) à LATAM

UMTS Triband (850/ 1900/ 2100) à LATAM

LTE B1/3/7/8/20(EMEA); B1/2/3/4/7/28(LATAM) (4G)

CPU
Dual Core 1.0GHz (3G)Quad core, 1.1GHz (4G)
CONNECTIVITY
Wi-Fi 802.11 b/g/n, Wi-Fi DirectUSB modem tetheringBluetooth (v4.0)HSPA+ (HSDPA/HSUPA), DL 21Mbps/ UL 5.76Mbps (3G) //// LTE DL 150Mbps, UL 50Mbps (4G)

Micro USB 2.0 high speed

GPS

CAMERAS
5 MP camera / 8 MP photosFront camera VGA & 1.3Mpxl & 2Mpxl photos opt.Flash / Filters / HDR(3G) / Panorama (4G)Video codecs: (H.263, H.264 AVC, MPEG-4 SP, VP8) (3G)

Video capture: 480P @15fps / Video playback: 720P @30fps (3G)

Video capture: 720P @30fps / Video playback: 720P @30fps (4G)

MEMORY
Internal memory: 4GB ROM / 512MB RAM(4GB ROM/1GB RAM, variant 3G Latam)End user: 2GBMicroSD up to 32GB
BATTERY
3G:1400mAh, Hard packStandby time: 480 hrs(2G); 300 hrs(3G)Talk time: 10 hrs(2G); 9.5 hrs(3G)

Charging time: 3 hrs

4G:

1800mAh, Hard pack

Standby time: 270 hrs(2G); 220 hrs(3G); 200 hrs(4G)

Talk time: 10 hrs

Charging time: 3.5 hrs

CHIPSET
MTK6572M (3G)MTK6735M (4G)
OTHERS
G-sensor, Dual SIM (optional), Handsfree, FM Radio, Smart Torch, 1 finger zoom, Pre-embedded apps, QR code in camera, Mini apps, Download booster (4G)
Technical specifications - PIXI 3 (5-inch)
DIMENSIONS
141 x 71.5x 9.95 mm
DISPLAY
5-inch FWVGA (854x480), TFT 16m color displayCapacitive touch screen with gestureMiravision technologie (3G)
OS
Android Kitkat (3G)Android L (4G)
BANDS
Micro Sim, EAP SIMGSM Quadband (850/ 900/ 1800/ 1900)UMTS Dualband (900/ 2100) à EMEAUMTS Quadband (850/ 900/ 1900/ 2100) àLATAM

UMTS Triband (850/ 900/ 2100) à APAC

LTE EMEA: B1/3/7/8/20 // APAC: B1/3 // LATAM: B1/2/3/4/7/28

CPU
Dual Core 1.3GHz (QuadCore 1.3GHz optional) (3G)Quad Core 1.1GHz (4G)
CONNECTIVITY
Wi-Fi 802.11 b/g/n, Wi-Fi Direct, USB modem tethering Bluetooth, HSPA+ (HSDPA/HSUPA), DL 21Mbps/ UL 5.76Mbps (3G) //// LTE DL 150Mbps, UL 50Mbps (4G)GPS, Wifi display (Miracast)Micro USB, 2.0 High Speed
CAMERAS
5MP & 8MP camera / 10Mpxl photosFlash optional, HDR, Panorama, Fast auto focus opt. (AF camera, 3G), Video effect & Camera image effects (3G), filtersVideo codecs: H.264, H.263, MPEG-4, XVID, VP8, VC-1Video capture: 720P@30fps/ Video playback:1080p 30fps

Front camera 0.3 & 2 Mpxl camera / 1.3 & 3 Mpxl photos

MEMORY
Internal memory: 4GB ROM / 512MB RAM (8GB ROM/ 1GB RAM compatible) (3G)8GB ROM / 1GB RAM (4G)End user: 2GB / MicroSD up to 32GB
BATTERY
3G: 1800mAh, Hard packStandby time: 510 hrs(2G); 450 hrs(3G) / Talk time: 11 hrs(2G); 9 hrs(3G)Charging time: 4 hrs4G: 2000mAh, Hard pack
CHIPSET
MT6570 (Default), MT6580 (3G) // MSM8909 (4G)
OTHERS
G-sensor, Dual SIM (optional), Handsfree, FM Radio, Smart Torch, 1 finger zoom, Pre-embedded apps, Mini apps, QR code in camera, Download booster (4G)